Table of Contents
PowerBI is a powerful tool for business intelligence. Its main designation is the analysis and visualization of business metrics. It has perfect integration with other Microsoft products like Office 365, Azure, Power Apps, Power Virtual Agents, etc. Also, it supports easy sharing by displaying the visualizations on different platforms: desktop, via the web app, or even on mobile devices.
Grafana is the acknowledged leader in the market of monitoring tools. It can take any time-series data and turn it into great dashboards and visualizations. Grafana is a great open-source tool for monitoring business metrics, and it is used to monitor infrastructure, application performance, and even IoT devices. If you are looking to avoid the time-consuming setup of open source projects, MetricFire runs a Hosted Grafana that allows you to use Grafana without installations.
Grafana is a popular solution for companies monitoring different metrics across divisions. By building beautiful visualizations and aggregating them into multi-faceted dashboards, Grafana lets you track everything you want. It also has plenty of plugins to work with different 3rd-party systems. In addition, it can trigger alerts and notify you about certain events during monitoring.
We have a lot of resources at MetricFire to help you get familiar with Grafana. See our Grafana vs PowerBI, Grafana vs Kibana, and Grafana Plugins posts, as well as many other articles in our blog. You can also try Grafana on your own using our free trial. The free trial is a great way to try out Grafana and see if it suits your needs.
In this article, we will show you how Grafana can be used for business metrics. We will look at the best dashboards for business metrics monitoring and how to set them up.
What are business metrics?
Business metrics are indicators reflecting the performance of the company, the department, or even the individual employee. Business metrics help stakeholders to analyze how well the business processes are working without diving deeply into the financial statements. Also, business metrics are critical for the operative management of the company.
Many business metrics are used widely by different companies. At the same time, each company or division can invent custom metrics specific only to its industry or use cases. The most well-known metrics include sales revenue, net profit margin, working capital, customer retention, customer acquisition, net promoter score, website traffic, conversion, etc. In this article on ntaskmanager.com, you can find many other fascinating metrics with explanations about each one.
Grafana's features for working with business metrics
There are three central components of Grafana that allow the implementation of business metrics analysis: panels, dashboards, and the reporting functionality.
The panel is the basic element in Grafana that represents visualization. With a panel, you create a plot that visualizes the given metric or metrics. When the panel is ready, you can share it with your coworkers.
The dashboard is simply a collection of panels. Having all visualizations in one place can help you comprehensively understand what is happening with the business. When the dashboard is ready, you can use the reporting functionality of Grafana to automatically and regularly create PDF reports and share them among stakeholders.
There are several kinds of panels, and each is responsible for a particular visualization type.
The Graph panel is one of the most used panels. It is created in the form of a line chart (when the x-axis is time), series chart (when the x-axis is the categories of values), or histogram (the bar chart which shows the distribution of values).
For example, a line chart can be used to visualize business metrics that vary frequently over time (say, a website's traffic). Series charts are good for visualizing sales by different products, business divisions, geographical locations, etc. Distributions of many metrics are also very interesting for businesses. For instance, a histogram type can be used to show the distribution of net promotion scores given by the clients.
Below the example graph panel shows the website's traffic visualization.
‍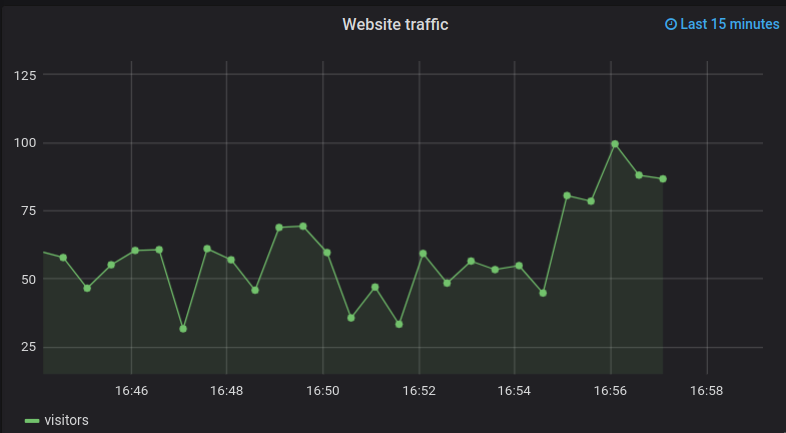 A table panel is a convenient form of representation for some business metrics. It should be used in cases where there is a lot of important data to show, and the stakeholders are more interested in seeing a complete information overview than fancy visualizations. Using table panels you can mark values as "good", "warning", "critical", or as other states by changing the color of the box. For example, if you have a table showing customer churn by different subscription plans, the values from the "normal" range can be highlighted with the green color, slightly higher values could be marked by yellow, and the significantly higher values would be red.
Below you can find an example of a table panel that displays the total number of visitors to the firm's website over the latest minute split by the region: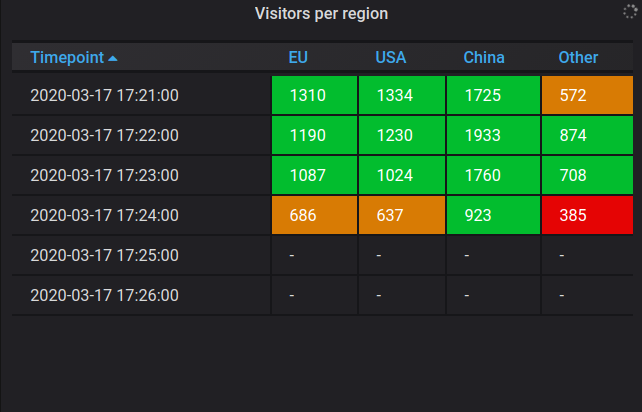 A stat panel can be used to show a set of single business metrics across different categories. For example, to show the number of sales of each of the firm's products. At the same time, under each value, you can see the simple graph that allows you to understand the past and current dynamics of this value. As with all panels, you can also tweak background and value colors, alignment, etc.
A gauge panel is a way of visualizing business metrics that can vary quickly over short periods. An example could be the website's traffic. However, this is not a classic visualization for most business metrics, it is rather a monitoring tool. So, you need to decide whether you require it in your particular case.
Below you can see an example of what the gauge panel, which represents customer churn, could look like. It shows that currently, we have 3 customers who churned over the specified time period. If the number grows, it can reach the yellow region, which means that the churn is higher than usual. When the value is in the red region, this means that the churn is at a critical level, and urgent measures should be taken.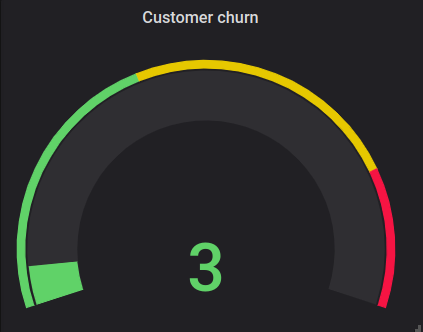 The bar gauge panel is similar to the gauge panel visualization tool. The gauges are in the form of bars. The use case for a bar gauge panel is the same as for the gauge panels. Usage for business metrics is limited but possible.
The Singlestat panel is somewhat similar to the stat panel. It also displays a single value, but it gets this value by summarizing the time series (by computing the average, the sum of values, or min or max values). It is possible to customize a singlestat panel by prefix, postfix, specifying units, and representing information as the text value (for example: "Clicks: 25% from target users").
In the image below, you can see three Singlestat panels that represent information about smartphones, laptops, and total sales of all products over the last 5 minutes.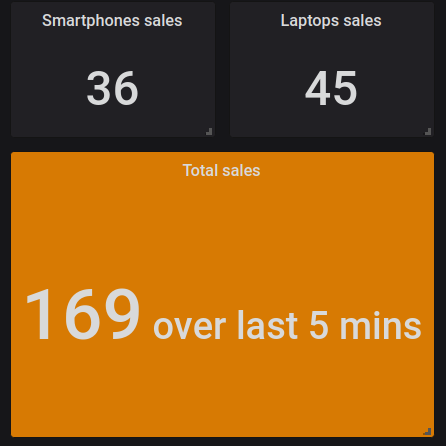 The text panel is an auxiliary panel when building dashboards. They are used to describe something, add additional explanations, etc.
Here is the example of the text panel:

‍
Business Metrics generation and data sources
To use Grafana as a tool for business metrics visualization and analysis you must have a connected data source. An example pipeline can be as follows: Your systems generate metrics and send them to a database. A database can be any time-series database that works best for you, such as InfluxDB, TimescaleDB, or Graphite. Then you create a data source for this database in Grafana. Grafana is just a dashboard, so the information needs to exist before it gets piped into Grafana.
Business metrics can be generated in many ways. The most direct and simple metrics are used for financial data that are not updated very frequently (like net income over the period, return on investments, etc.). Usually, they are calculated once a period and then can be manually pushed into the relational database.
Another way is generating the information from your web or mobile applications. They generate a lot of frequent events and data, which can be pushed to the database by the application's backend or processed by special application monitoring tools. Examples of such systems are Elastic APM, IBM APM, Traceview, Sematext APM, Dynatrace, etc. These can then be added as data sources in Grafana.
One more approach to getting business metrics is sending them directly from your CRM system. Here are several popular CRMs: Salesforce, HubSpot, ZohoCRM, and Pipedrive.
Try out the Grafana free trial here, and see if you can set up your business metrics. If you run into any issues, book a demo with the MetricFire team directly, and we'll help you set up your business monitoring.
The best databases for visualizing business metrics in Grafana
As mentioned in the previous section, regardless of how the data was generated, the data needs to be pushed into a database. Grafana can then easily add that database as a data source and your graphs will be populated with information. But which databases are the best for visualizing business metrics in Grafana?
The advantage of Grafana is that it can be easily integrated with a wide range of different data sources. There are many officially supported sources, but you can find even more among the 3rd-party plugins.
Relational databases are the most commonly used storage for business data. PostgreSQL, MySQL, and Microsoft SQL Server are good for storing financial data or data that is not frequently changed.
When you want to collect some metrics from your website, a time-series database like InfluxDB can be used. Prometheus is also a good option because it can work with time-series data well and also can be used as a monitoring platform.
Google BigQuery is a well-known cloud data warehouse that is used by many companies for storing their business metrics data. Grafana has a plugin that allows you to connect BigQuery. The MetricFire team can set up this plugin for our users.
ClickHouse is the relational database for storing data about events (for example, clicks on your website, new online orders, visits, etc.). Grafana has a corresponding plugin to connect ClickHouse as well.
Finally, if there is a need, it is possible to create your own custom data source. You can read more about data sources in Grafana in our article.
Example of a dashboard with business metrics
Let's now look at what a dashboard with business metrics can look like.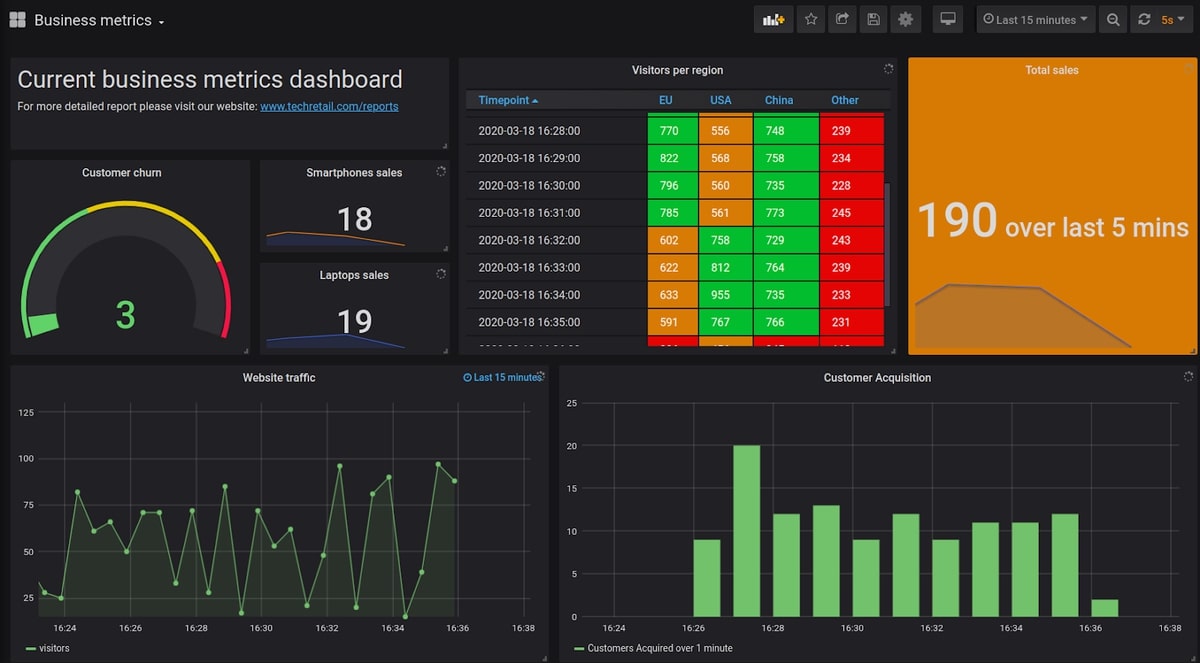 You can drag and drop different panels over convenient locations, change colors, markers, sizes, etc. The dashboard is dynamic and interactive.
You can also share the dashboard by pressing the share button in the top right region of the screen. Then you will have several options to specify: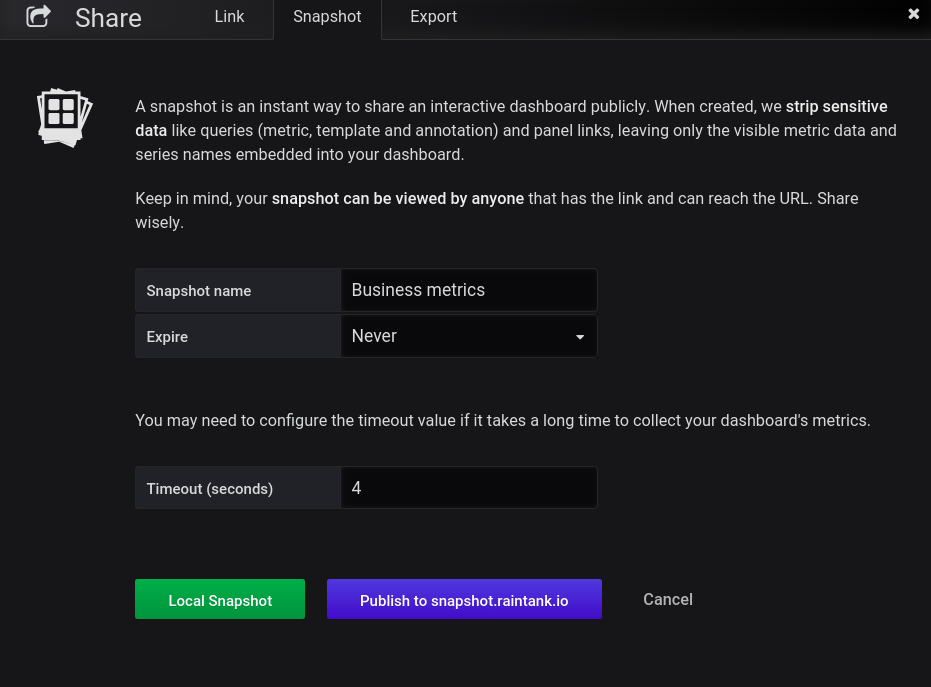 Grafana is notoriously shareable and is a great way to tell your colleagues about the information they need to know.
Conclusion
In this article, we demonstrated how Grafana can be used to visualize and track your business metrics. We briefly described the nature of business metrics and then gave some examples of Grafana panels that could be useful in business metrics visualization. For more information on setting up Grafana dashboards, check out Getting Started with Grafana Dashboards and Our Favorite Grafana Dashboards.
While PowerBI is very popular in this field, Grafana provides a broad set of functionality that allows performing business analytics on a very advanced and powerful level. Grafana is a popular solution for companies that monitor infrastructure, networks, and IoT because it can do much more than just business analytics.
If you have any questions, you can get in touch with us. Don't forget that you can also use MetricFire's free 14-day trial to have some practice with Grafana as a Service.