With the ever-increasing popularity of streaming content, the need to enable users to collect, store, capture, and process large amounts of data from their distributed streams is crucial. By using Amazon Kinesis Data Firehose, you can capture massive amounts of live video data from millions of sources, and then make them available to consumers in a data-efficient and cost-effective format.
Amazon Kinesis Data Firehose lets you quickly load streaming data into data stores, data lakes, and analytics services. You can use it to capture, transform, and deliver streaming data to a range of Amazon services, including Amazon Redshift, Amazon S3, and Amazon Elasticsearch Service. You can also use Kinesis to connect to generic HTTP endpoints and service providers such as New Relic, MongoDB, Datadog, and Splunk.
Firehose is a fully managed service that automatically scales to match your data throughput. You can also use it to compress, transform, and encrypt your data streams. This feature minimizes the amount of storage required for your streaming data and increases security.
Amazon Kinesis Data Firehose integrates with Amazon CloudWatch metrics so you can collect and analyze your data streaming metrics. For example, you could monitor the IncomingBytes and IncomingRecords metrics to track data ingested into Kinesis Data Firehose from your data producers. You can use Kinesis Analytics to analyze and process your data streams using standard SQL. It also comes with pre-built stream processing templates to help you manage your data analytics.
By integrating Amazon CloudWatch with the MetricFire platform, you can display your streaming metrics on aesthetically pleasing dashboards. MetricFire's advanced filtering lets you choose only the data views you want to see and discard the rest. You can also set up simple rules to discard data you no longer need, plus receive alerts via email or Slack when your data streaming is doing something it shouldn't.
To get started, first, create a policy that we will later attach to the user.
In the IAM Dashboard, click on Policies (on the left) or Customer Managed Policies under IAM Resources, then click on Create Policy.
Switch to the JSON tab, replace the existing text with the policy provided below, and click 'Review policy'.
Give the policy a name (Eg: HG_policy) and a description (optional).
Save the policy by clicking 'Create Policy'.
Next, we'll create a user to attach the policy. We'll use the Access Key/Secret Key tokens to permit Hosted Graphite to import CloudWatch metric data.
In the IAM Console, click on 'Users' on the left or under IAM Resources. Then select 'Add User'.
Give the user a name (Eg: HG_addon) and 'Programmatic access' for the Access type.
Click 'Next: Permissions' and click the 'Attach existing policies directly' button at the top.
Search for the policy we just created and attach it by clicking the corresponding checkbox, then press 'Next: Review'.
Click on 'Create User' and copy the Access Key and Secret Key into the relevant fields on the add-on set-up page here. Optionally, you can download a copy of this account information, but keep it safe as this information can be sensitive.
To enable the CloudWatch add-on, go to the add-ons page in your Hosted Graphite account and choose the option for Amazon AWS CloudWatch. From there you can select the AWS services you wish to connect with.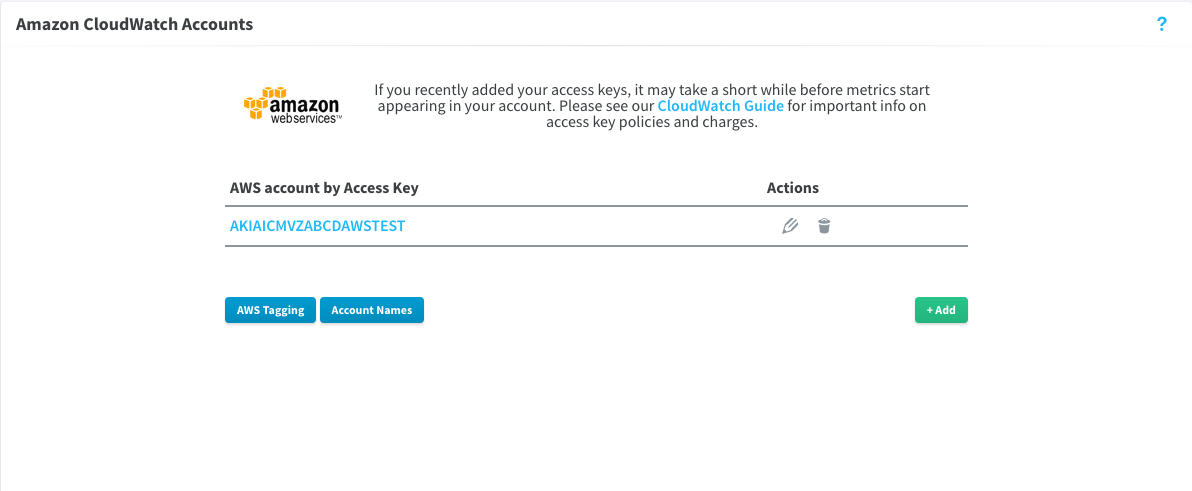 If you have any questions about getting your AWS instances connected to Hosted Graphite, contact our team. We're happy to help you!