Amazon Elastic Load Balancing is a tool that automatically distributes incoming application traffic across multiple targets, including Amazon EC2 instances, containers, virtual appliances, Lambda functions, and IP addresses. Your application traffic can be handled by a single availability zone or across multiple zones.
There are four types of load balancers available with Amazon Elastic Load Balancing:
The Application Load Balancer is best suited for load balancing HTTP and HTTPS traffic with advanced request routing targeted at modern application architectures, including microservices and containers.

The Network Load Balancer is best suited for load-balancing Transmission Control Protocol (TCP), Transport Layer Security (TLS), and User Datagram Protocol (UDP) traffic where extreme performance is required.

The Gateway Load Balancer is used to deploy and run third-party virtual networking appliances. It provides load balancing and auto-scaling for collections of third-party apps.

The Classic Load Balancer gives you basic load balancing across multiple Amazon EC2 instances. It operates at both the connection and request levels.
Amazon Elastic Load Balancing monitors your applications' health and performance in real time with Amazon CloudWatch metrics, logging, and request tracing. These monitoring tools help you analyze your applications' behavior, uncover issues, and identify performance bottlenecks in your application stack. By using Elastic Load Balancing, you can also ensure compliance with application Service Level Agreements (SLAs).
With Metricfire, you can turbocharge your Amazon Elastic Load Balancing monitoring services. By integrating Amazon CloudWatch with the Metricfire platform, you can display your metrics on aesthetically pleasing dashboards. MetricFire's advanced filtering lets you choose only the data views you want to see and discard the rest. You can also set up simple rules to discard data you no longer keep, plus receive alerts via email or Slack when your load balancing is doing something it shouldn't.
To get started, first, create a policy that we will later attach to the user.
In the IAM Dashboard, click on Policies (on the left) or Customer Managed Policies under IAM Resources, then click on Create Policy.
Switch to the JSON tab, replace the existing text with the policy provided below, and click 'Review policy'.
Give the policy a name (Eg: HG_policy) and a description (optional).
Save the policy by clicking 'Create Policy'.
Next, we'll create a user to attach the policy. We'll use the Access Key/Secret Key tokens to permit Hosted Graphite to import CloudWatch metric data.
In the IAM Console, click on 'Users' on the left or under IAM Resources. Then select 'Add User'.
Give the user a name (Eg: HG_addon) and 'Programmatic access' for the Access type.
Click 'Next: Permissions' and click the 'Attach existing policies directly' button at the top.
Search for the policy we just created and attach it by clicking the corresponding checkbox, then press 'Next: Review'.
Click on 'Create User' and copy the Access Key and Secret Key into the relevant fields on the add-on set-up page here. Optionally, you can download a copy of this account information, but keep it safe as this information can be sensitive.
To enable the CloudWatch add-on, go to the add-ons page in your Hosted Graphite account and choose the option for Amazon AWS CloudWatch. From there you can select the AWS services you wish to connect with.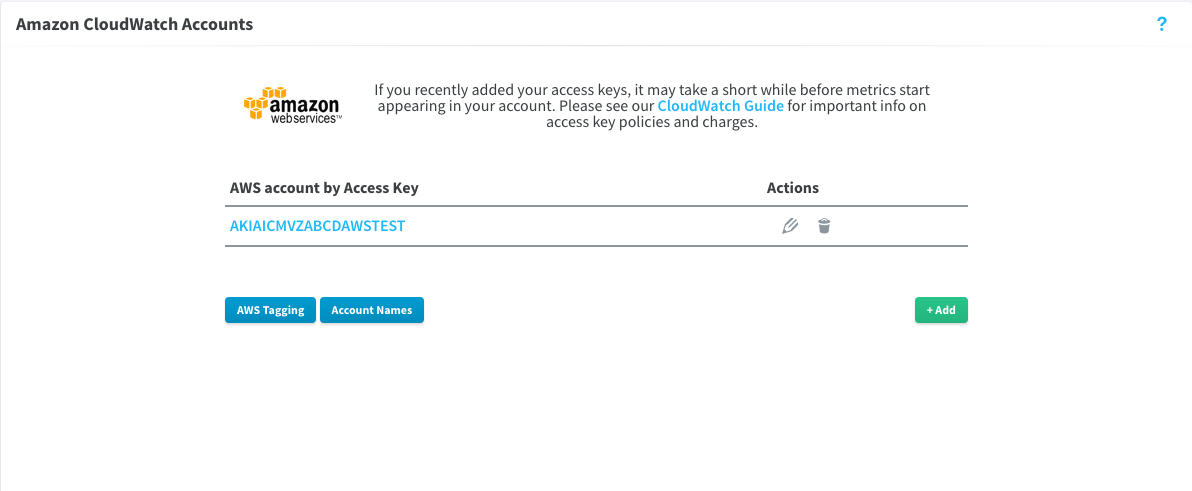 If you have any questions about getting your AWS instances connected to Hosted Graphite, contact our team. We're happy to help you!