Amazon Elastic MapReduce (EMR) is an Amazon Web Services (AWS) tool designed for big data processing and analysis. EMR is based on the Java-based programming framework Apache Hadoop, which supports the processing of large data sets in a distributed computing environment. MapReduce is a software framework that works by enabling developers to write programs that process vast amounts of unstructured data in parallel over a distributed cluster of processors.
EMR is used to analyze data in log analysis, data warehousing, web indexing, machine learning, financial analysis, scientific simulation, bioinformatics, among many other uses. Amazon EMR also supports workloads that are based on Apache Spark, Presto, and Apache HBase.
Amazon EMR can also be used to transform and move large amounts of data into and out of other AWS databases.
Amazon EMR has several benefits, including:
Security reliability: Amazon AWS ensures its data center and network architecture meet even the most security-sensitive organizations' ever-evolving security requirements.
Easy-to-use: Thanks to its ease of use, and the number of tools that are offered within the platform, Amazon EMR allows organizations to save both time and money by simplifying the processing of big data and providing a framework that makes distributing and processing vast amounts of data quick, easy, and, cost-effective.
Monitoring Amazon EMR clusters is key to detecting critical issues with real-time applications and identifying the root causes ASAP. When you do performance monitoring, you can track how the clusters are used over time. This insight allows teams to find potential bottlenecks and optimization opportunities. Performance monitoring is your best bet to catch any issues as they happen and before they turn into major problems.
Did you know that you can integrate Amazon EMR with MetricFire? MetricFire provides a complete infrastructure and application monitoring platform from a suite of open-source monitoring tools. Depending on your setup, you may choose Hosted Prometheus or Graphite and view your metrics on beautiful Grafana dashboards in real time. Integrate with Amazon EMR to make the most of both services today!
To get started, first, create a policy that we will later attach to the user.
In the IAM Dashboard, click on Policies (on the left) or Customer Managed Policies under IAM Resources, then click on Create Policy.
Switch to the JSON tab, replace the existing text with the policy provided below, and click 'Review policy'.
Give the policy a name (Eg: HG_policy) and a description (optional).
Save the policy by clicking 'Create Policy'.
Next, we'll create a user to attach the policy. We'll use the Access Key/Secret Key tokens to permit Hosted Graphite to import CloudWatch metric data.
In the IAM Console, click on 'Users' on the left or under IAM Resources. Then select 'Add User'.
Give the user a name (Eg: HG_addon) and 'Programmatic access' for the Access type.
Click 'Next: Permissions' and click the 'Attach existing policies directly' button at the top.
Search for the policy we just created and attach it by clicking the corresponding checkbox, then press 'Next: Review'.
Click on 'Create User' and copy the Access Key and Secret Key into the relevant fields on the add-on set-up page here. Optionally, you can download a copy of this account information, but keep it safe as this information can be sensitive.
To enable the CloudWatch add-on, go to the add-ons page in your Hosted Graphite account and choose the option for Amazon AWS CloudWatch. From there you can select the AWS services you wish to connect with.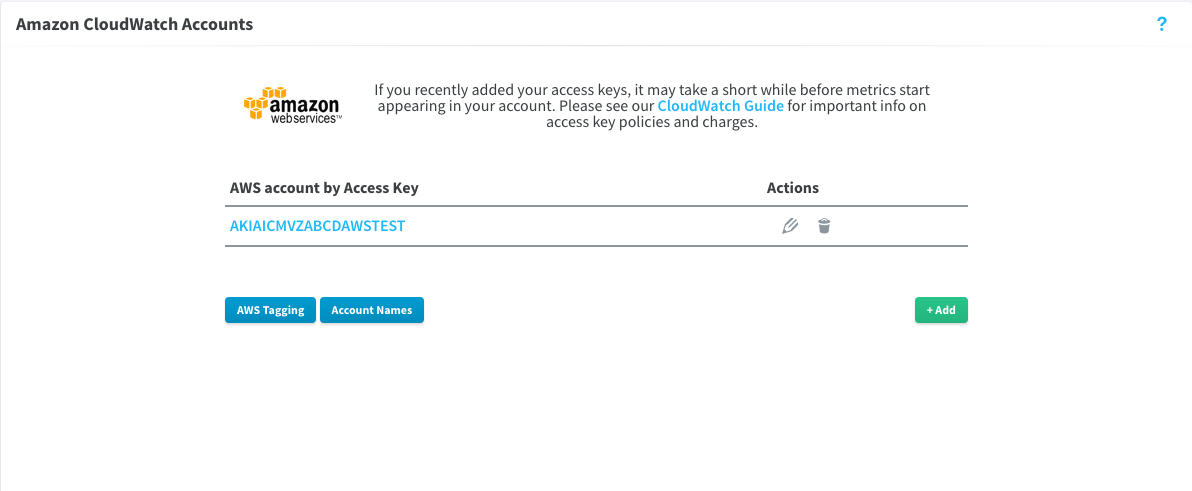 If you have any questions about getting your AWS instances connected to Hosted Graphite, contact our team. We're happy to help you!