The Amazon Relational Database Service (Amazon RDS) is a web service you can use to set up and manage relational databases in the AWS Cloud. It provides a cost-efficient way to leverage fully managed and scalable industry-standard relational databases without the need to look after everyday database administration tasks.
When you subscribe to Amazon RDS, you get your cloud-based server, CPU, memory, storage, and IOPS, all bundled together. You can set up, manage, and scale each of these services independently. If you need more CPU or more storage, you can quickly allocate them. Amazon RDS manages your backups, and software patching, plus it includes automatic failure detection and recovery. You can use different database flavors, including MySQL, MariaDB, PostgreSQL, Oracle, and Microsoft SQL Server.
You can configure Amazon RDS for high availability and failover by setting up a primary instance and a synchronous secondary instance. Plus, you can control who can access your RDS databases by using AWS Identity and Access Management (IAM) services to assign users permissions.
Amazon RDS is fully integrated with Amazon CloudWatch, allowing you to monitor your database's health and performance. By subscribing to Amazon RDS events, you can be notified about changes to a DB instance, DB parameter group, DB security group, or DB snapshot.
More importantly, with Metricfire, you can turbocharge your Amazon RDS monitoring services. By integrating Amazon CloudWatch with the Metricfire platform, you can display your metrics on aesthetically pleasing dashboards. MetricFire's advanced filtering lets you choose only the data views you want to see and discard the rest. You can also set up simple rules to discard data you no longer keep, plus receive alerts via email or Slack when a database issue is detected.
To get started, first, create a policy that we will later attach to the user.
In the IAM Dashboard, click on Policies (on the left) or Customer Managed Policies under IAM Resources, then click on Create Policy.
Switch to the JSON tab, replace the existing text with the policy provided below, and click 'Review policy'.
Give the policy a name (Eg: HG_policy) and a description (optional).
Save the policy by clicking 'Create Policy'.
Next, we'll create a user to attach the policy. We'll use the Access Key/Secret Key tokens to permit Hosted Graphite to import CloudWatch metric data.
In the IAM Console, click on 'Users' on the left or under IAM Resources. Then select 'Add User'.
Give the user a name (Eg: HG_addon) and 'Programmatic access' for the Access type.
Click 'Next: Permissions' and click the 'Attach existing policies directly' button at the top.
Search for the policy we just created and attach it by clicking the corresponding checkbox, then press 'Next: Review'.
Click on 'Create User' and copy the Access Key and Secret Key into the relevant fields on the add-on set-up page here. Optionally, you can download a copy of this account information, but keep it safe as this information can be sensitive.
To enable the CloudWatch add-on, go to the add-ons page in your Hosted Graphite account and choose the option for Amazon AWS CloudWatch. From there you can select the AWS services you wish to connect with.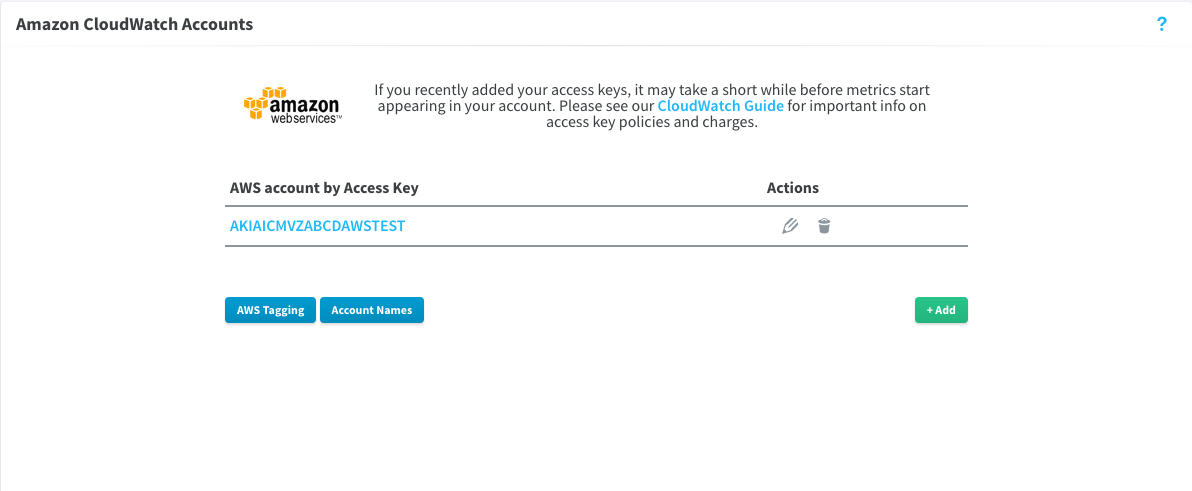 If you have any questions about getting your AWS instances connected to Hosted Graphite, contact our team. We're happy to help you!