Introduction
Dashboards are great ways to visualize different KPIs in a single place. Numerous metrics from all over your system can be framed together and watched in a single screen, helping us to correlate them and reduce the overall efforts of analysis.
Grafana vs SolarWinds – It is often difficult to choose between their dashboarding capabilities. Both the tools provide their own visualizations and help bring out interactive dashboards for users to use.
But which one is better? – This article will provide a full answer on the pros and cons of each dashboard. We highlight the capabilities of both the tools and help compare their key differences in terms of dashboarding. Keep reading to explore more about their features and make the right choice.
To get started, you should sign up for the MetricFire free trial here. You can try out Grafana directly within minutes, and make dashboards monitoring your whole system for free.
What is Grafana?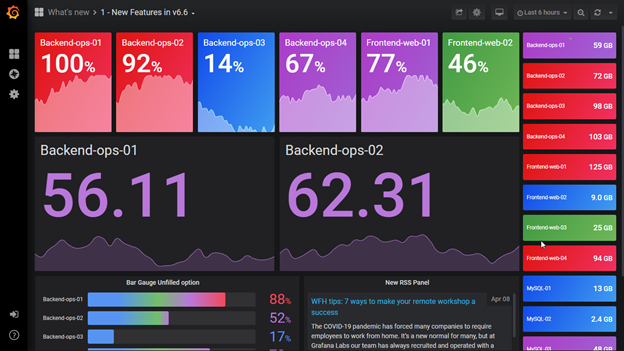 Grafana is an open source analytics and monitoring solution, developed and supported by Grafana Labs. It lets you query, graph and alert on your time-series metrics no matter where the data is stored. Grafana is backed by a vibrant community of developers and is used today by thousands of companies to monitor anything and everything.
MetricFire runs a Hosted Grafana service that allows you to use Grafana without having to set up the open source software. Sending metrics to Grafana is really easy with MetricFire's custom built agent.
Features of Grafana
Grafana is made of a very lightweight backend and supports over 30+ open source and commercial data sources with minimal infrastructure.
It can easily integrate with your workflow to help explore metrics, visualize real time data, explore logs, evaluate data points and notify issues using different notification channels.
It provides built-in support for prominent time-series databases like Graphite, influxDB, Prometheus, Elasticsearch and many more.
It comes with a huge collection of interactive plugins starting from simple charts and graphs to heatmaps, geomaps, flow charts and many more.
Grafana allows querying and mixing different data sources into the same graph. Also, other features like use of Ad-hoc filters and adding annotations makes it a tough competitor in the market of data visualization and analytic tools.
‍
With the help of Grafana's ever-growing community support, new plugins and dashboards are added every week with enhanced features and updates. For example, check out this dashboard for monitoring Kubernetes that you can download directly from the Grafana website.
Their official library consists of a wide variety of plugins like graphs, charts, dashboards, alert panels etc. All these plugins come with numerous customization options, allowing users to display their data in different ways and convert them to fast and flexible dashboards.
Dashboarding in Grafana
‍
‍
The power of Grafana lies in its state-of-the-art interactive dashboards. These dashboards and their easy to customize features are the reasons why most of the dev-ops community stick to Grafana as their primary monitoring tool. Grafana doesn't come with any pre-built dashboard and needs to be custom created right from the beginning.
Each dashboard consists of one or more panels arranged and organized into rows. Each row may contain any number and type of panels ranging from simple charts to geo-maps or heatmaps, flow charts etc. There are no restrictions on having multiple panels of the same type on a single row or on a dashboard. Each panel must be separately configured with an input query resulting in an accepted output format.
Grafana comes out-of-the-box with a wide range of essential plugins, and users can choose to also install more from the official and community-built plugin page.
Grafana allows you to define organizations within the tool, which acts like a role based access, and can be used to separate dashboards between different teams. Grafana also lets you create dynamic dashboards with the help of template variables. These dashboards display tons of data using the same template, increasing reusability. To know more about using templates in Grafana, read our article on Our Favorite Grafana Dashboards here.
Alerting is a great feature in Grafana that helps users get notified of any threshold violations for their data points. Lots of Grafana panels allow setting visual thresholds, so it will notify users of value degradation by changing colors dynamically on the graph. These panels evaluate metrics continuously against predefined threshold ranges and modify colors accordingly.
Some panels also send notifications over different channels like email, Slack, PagerDuty, VictorOps etc.
Sign up for the MetricFire free trial here and try the dashboards out right now! You can get guidance on how to build the dashboards directly in-app in our service chat box.
What is SolarWinds?
‍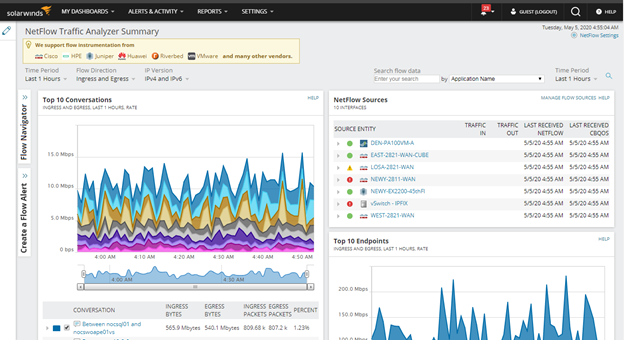 ‍
SolarWinds is a suite of software products designed for managing and monitoring network, servers, applications, databases and other Information Technology related systems.
Initially starting with web-based network performance, SolarWinds now consists of dozens of tools to manage different systems, hardware, security, compliances etc. Each of these tools oversee different areas and are licensed individually.
It's a product suited for companies of all sizes wanting to manage different entities of network, infrastructure, incidents, compliances etc. using a proprietary tool. SolarWinds Orion platform represents a unified IT monitoring solution and sits at the core of the SolarWinds IT Operations management portfolio, providing features like data collection, processing, storage, alerting, reporting etc. Due to its rapidly growing acquisitions, SolarWinds has become one of the fastest growing companies today. Some of the product features are pointed below.
Features of SolarWinds
Network Performance Management (NPM) tool provides multi-vendor network monitoring, wi-fi monitoring, critical path visualization, in-depth insights and easy scaling for large environments. They provide visibility to your logical and physical networks.
Network analyzer pack provides enhanced features to the NPM by monitoring and visualizing bandwidth and traffic patterns - making it easier to detect and troubleshoot network performance issues.
The Server and Application monitor provides numerous KPIs related to your applications, server health and storage, letting you easily plan and manage capacities across on-prem or cloud-based solutions.
Database performance analyzers help manage databases supporting cross-platform tuning and performance optimization. They provide real-time and historical data over an intuitive GUI.
Service Desk is a service management tool featuring ITSM processes by helping manage incidents and assets.
Most of the tools come with Advanced alerts to easily notify users of any issues or threshold violations.
Take a look at this story of one company that was using SolarWinds, but was looking to move off of SolarWinds to a more flexible solution.
Dashboarding in SolarWinds
‍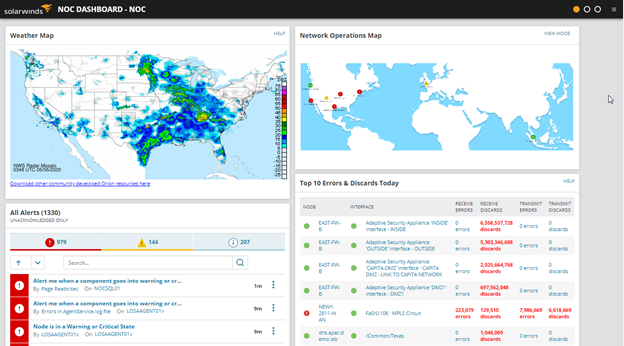 ‍
SolarWinds Dashboards provide great detail about all of the metrics and KPIs it collects. Although creating and editing dashboards in SolarWinds is not as flexible and easy-going as Grafana, they still provide a lot of information on a single pane.
SolarWinds provides prebuilt dashboards that auto populate data after discovery of nodes and networks. These dashboards have predefined templates that can also be customized by users to add or remove panels or resources.
The summary page provides a quick real time overview of all nodes, applications, alerts and recent events on a single screen. It can also be edited to include new custom tabs that can show additional information as per users' choice. Each tab can contain up to a maximum of 6 columns, where existing resources can be added to these columns from a long list of monitors being collected by the agents.
‍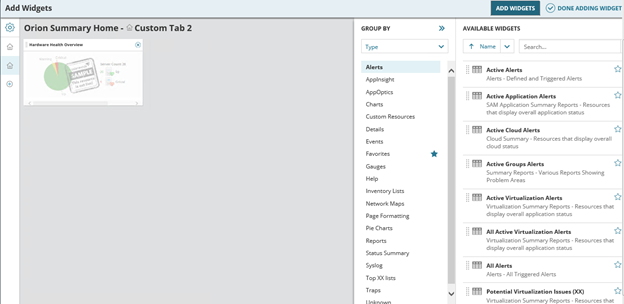 ‍
SolarWinds allows the adding of different widgets to custom tabs. Users can simply select from a list of available widgets and can display them using charts, pie charts, alerts list, network maps, gauges and many more.
One can also generate custom charts for different object resources. Users can easily create new charts by defining object types and selecting a KPI from an auto-populated list of metrics. They can select the time frame, sampling frequency and click on submit to add their chart to a view or dashboard. SolarWinds allows creating views for different teams and admins can choose to restrict views only to specific teams.
Unlike Grafana, Alerting in SolarWinds is a separate entity and not linked to any panel or dashboard. Users can easily define conditions and choose between numerous ways of notifications.
SolarWinds provides a long list of notification types including emails, syslogs, running an external script, creating ServiceNow incidents, sending GET or POST events, etc.
While the Orion platform is adding new features all the time, users can expect more visualization types and flexibility in dashboard creation and panel selection sometime in the new future.
What's the Difference?
‍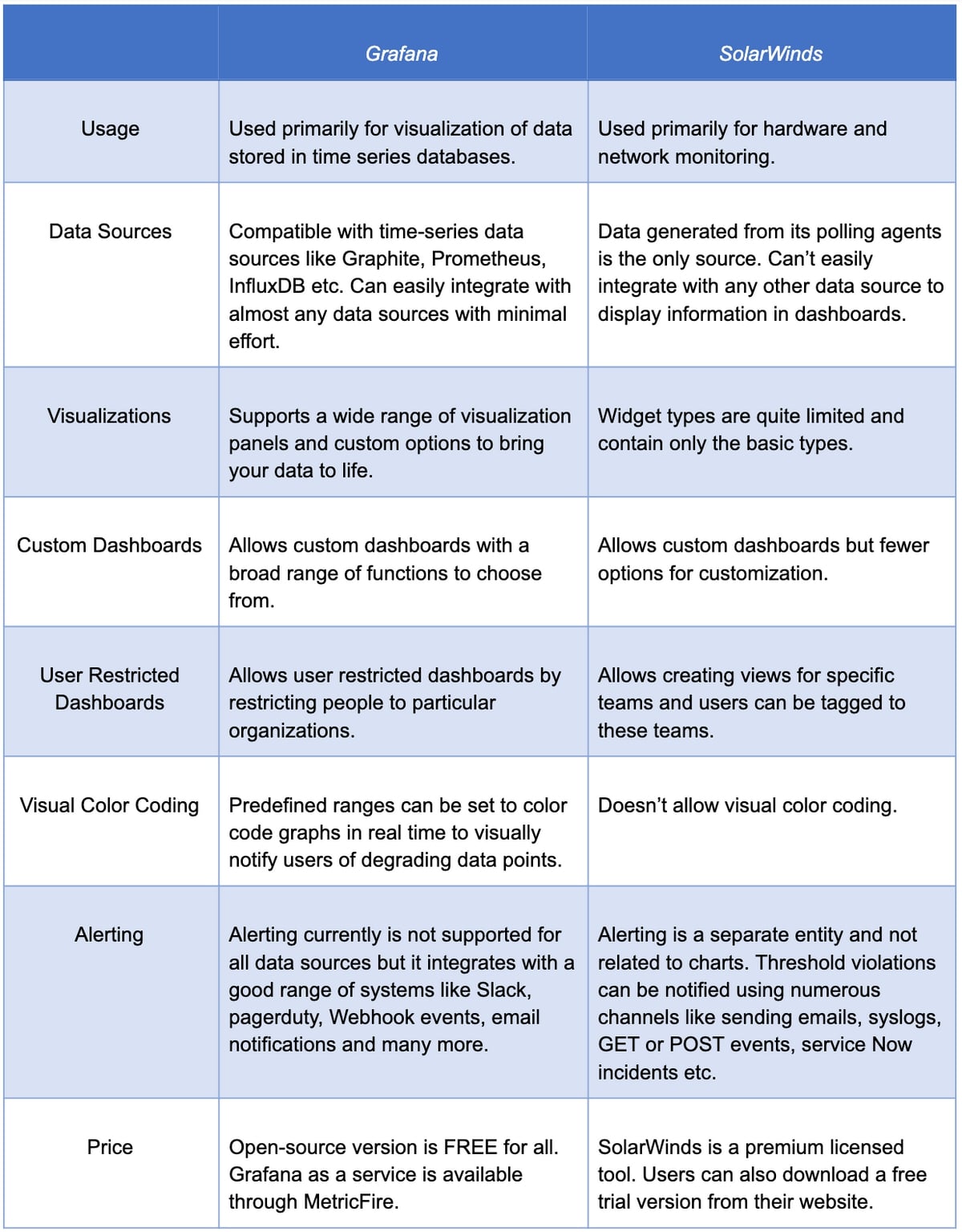 Summary and Conclusion
To conclude, Grafana and SolarWinds are tools belonging to different stacks. SolarWinds is not a visualization tool - they only provide basic options to graph the data collected using their polling agents, and then display it using their dashboards.
If you need a purely graphing tool that can integrate with all of your data sources, and provide deep insights over colorful dashboards, then Grafana is the right choice.
You can also integrate your SolarWinds data with MetricFire, and use Grafana dashboards to amplify your monitoring abilities. You don't have to settle for just one tool.
Sign up for the MetricFire free trial and build Grafana dashboards now. You can also book a demo and talk to the MetricFire team about how you can best set up your monitoring stack.