Amazon DynamoDB is a fully managed NoSQL database service. The service provides predictable performance and can scale seamlessly. Administrative tasks, such as operating and scaling a distributed database are handled automatically. You never have to worry about cluster scaling, software patching, replication, or setup and configuration.
DynamoDB encrypts data while not in use, keeping your data safe and secure at all times. The database tables you create can be stored and easily retrieved even during high peak traffic. Tables can be scaled up or down without loss of performance or downtime. Performance metrics and resource utilization can be monitored through your AWS Management Console.
The on-demand backup makes it possible for you to create complete backups of all tables that you can keep in storage or archive for future needs. The back-ups can be enabled with a specific point-in-time recovery, which helps to protect your tables from being accidentally over-written or deleted.
Expired items can be set to delete automatically at a certain time, freeing up storage space.
As a non-relational service, Amazon DynamoDB is reliable and capable of helping small businesses as well as large companies. The backup and restore, built-in security, and in-memory caching make it the best choice for any size business.
The AWS DynamoDB is chosen for the Internet of Things, mobile, gaming, web, ad tech, and other applications requiring low-latency access to data. You create a new table and DynamoDB handles the rest of the work.
Integrate Amazon DynamoDB with MetricFire for complete control over all of your data. The DynamoDB is a perfect database for applications requiring consistent millisecond latency at any scale. MetricFire allows you to see this in real-time.
With MetricFire, you can integrate with tools you know and trust. Stay on top of exactly what's going on at all times by monitoring the performance of your software and servers. Data is sent over high-resolution dashboards that show you exactly, in detail, what is happening with the technology stored inside. Plus, you are instantly alerted to any discrepancies or irregular behavior.
MetricFire is a cloud-based monitoring solution that helps businesses monitor their infrastructure and applications in real time. It integrates with a wide range of cloud services, including Amazon Web Services (AWS). In this article, we will discuss how MetricFire integrates with AWS MemoryDB to provide better monitoring and observability.
AWS MemoryDB is an in-memory database service that is compatible with Redis. It is designed for high performance and low latency and is well-suited for real-time applications that require sub-millisecond response times. With MemoryDB, users can run Redis workloads with less management overhead and scale their Redis clusters as needed.
MetricFire provides a powerful monitoring solution for MemoryDB that allows users to keep a close eye on their clusters' performance and health. With MetricFire, you can set up custom dashboards and alerts that give you real-time visibility into your MemoryDB clusters' metrics, such as CPU usage, memory usage, and network traffic. MetricFire also provides historical data, so you can track performance trends and identify potential issues before they become critical.
To integrate MetricFire with MemoryDB, you need to follow these simple steps:
Set up a MetricFire account: If you don't already have a MetricFire account, you can sign up for a free trial. MetricFire offers a range of plans to suit different needs and budgets, so you can choose the one that works best for you.
Install the MetricFire agent: To monitor your MemoryDB cluster, you need to install the MetricFire agent on each node in your cluster. The agent collects metrics from MemoryDB and sends them to MetricFire, where they are processed and displayed on your MetricFire dashboard.
Configure MetricFire: Once the agent is installed, you need to configure MetricFire to collect the metrics you want to monitor. MetricFire provides a range of pre-built dashboards and alerts for MemoryDB, but you can also create your own custom dashboards and alerts.
Start monitoring: With MetricFire and MemoryDB set up, you can start monitoring your clusters' performance and health in real time. MetricFire provides a range of visualization tools, including graphs, charts, and tables, so you can easily track your metrics and identify any issues.
MetricFire provides a powerful monitoring solution for AWS MemoryDB that allows you to keep a close eye on your clusters' performance and health. With MetricFire, you can set up custom dashboards and alerts, track performance trends, and identify potential issues before they become critical. To get started, sign up for a MetricFire account and follow the steps outlined above.
To get started, first, create a policy that we will later attach to the user.
In the IAM Dashboard, click on Policies (on the left) or Customer Managed Policies under IAM Resources, then click on Create Policy.
Switch to the JSON tab, replace the existing text with the policy provided below, and click 'Review policy'.
Give the policy a name (Eg: HG_policy) and a description (optional).
Save the policy by clicking 'Create Policy'.
Next, we'll create a user to attach the policy. We'll use the Access Key/Secret Key tokens to permit Hosted Graphite to import CloudWatch metric data.
In the IAM Console, click on 'Users' on the left or under IAM Resources. Then select 'Add User'.
Give the user a name (Eg: HG_addon) and 'Programmatic access' for the Access type.
Click 'Next: Permissions' and click the 'Attach existing policies directly' button at the top.
Search for the policy we just created and attach it by clicking the corresponding checkbox, then press 'Next: Review'.
Click on 'Create User' and copy the Access Key and Secret Key into the relevant fields on the add-on set-up page here. Optionally, you can download a copy of this account information, but keep it safe as this information can be sensitive.
To enable the CloudWatch add-on, go to the
add-ons
page in your Hosted Graphite account and choose the option for
Amazon AWS CloudWatch
. From there you can select the AWS services you wish to connect with.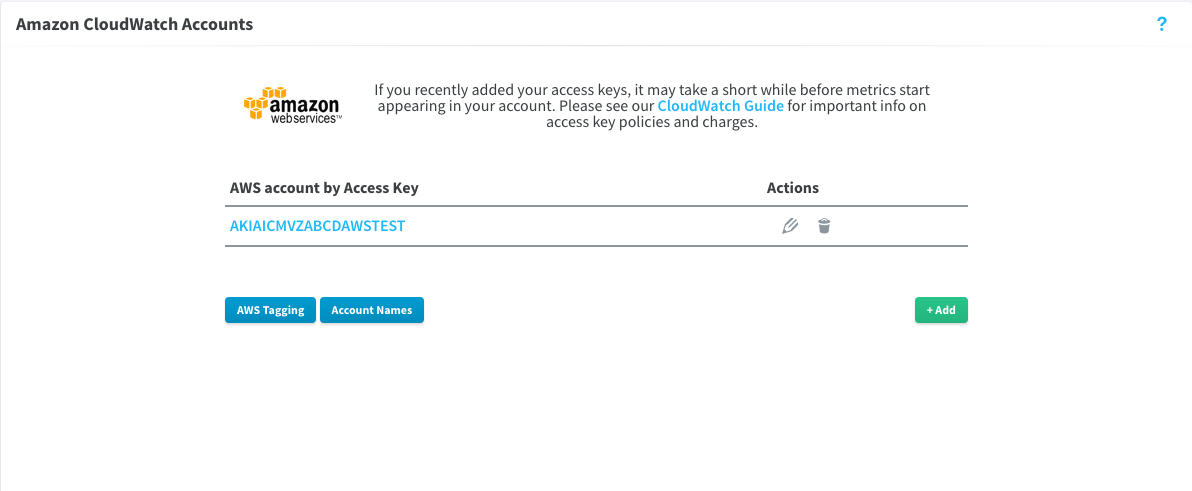 If you have any questions about getting your AWS instances connected to Hosted Graphite, contact our team. We're happy to help you!