Amazon Elastic Container Service (Amazon ECS) is a container management service that is fully managed, fast, and secure. It makes it easy for you to run, stop, and manage containers on a cluster. It should not be confused with Amazon EC2 which is used to manage the computing capacity and resources of the infrastructure used to store and run your containers. However, Amazon ECS and Amazon EC2 are often used together to manage your containers and the infrastructure they run on.
Containers are used for packaging application code, configurations, and dependencies into a single object, ensuring quick, reliable, and consistent deployments, regardless of your software environment. AWS provides a range of tools to help you register, manage, and run your application containers.
You can create task definitions that you use to run individual tasks or tasks within a service for each of your containers. AWS Fargate can run your tasks for you, or if you need more control, you can run your services or tasks on a cluster of Amazon EC2 instances.
Amazon ECS launches and stops your container-based applications by using simple API calls. You can also retrieve your cluster's state from a centralized service that gives you access to many Amazon EC2 features.
Monitoring your Amazon ECS resources is simple by using Amazon CloudWatch. The metrics you collect depend on the task launch type you use. If you use Fargate launch types for your services, then CPU and memory utilization metrics are provided to monitor your services. For the Amazon EC2 launch types, you need to monitor the EC2 instances yourself. This is where MetricFire can help you out.
With MetricFire, you can turbocharge your Amazon ECS monitoring services. By integrating Amazon CloudWatch with the MetricFire platform, you can display your metrics on aesthetically pleasing dashboards. MetricFire's advanced filtering lets you choose only the data views you want to see and discard the rest. You can also set up simple rules to discard data you no longer keep, plus receive alerts via email or Slack when your ECS service is doing something it shouldn't.
To get started, first, create a policy that we will later attach to the user.
In the IAM Dashboard, click on Policies (on the left) or Customer Managed Policies under IAM Resources, then click on Create Policy.
Switch to the JSON tab, replace the existing text with the policy provided below, and click 'Review policy'.
Give the policy a name (Eg: HG_policy) and a description (optional).
Save the policy by clicking 'Create Policy'.
Next, we'll create a user to attach the policy. We'll use the Access Key/Secret Key tokens to permit Hosted Graphite to import CloudWatch metric data.
In the IAM Console, click on 'Users' on the left or under IAM Resources. Then select 'Add User'.
Give the user a name (Eg: HG_addon) and 'Programmatic access' for the Access type.
Click 'Next: Permissions' and click the 'Attach existing policies directly' button at the top.
Search for the policy we just created and attach it by clicking the corresponding checkbox, then press 'Next: Review'.
Click on 'Create User' and copy the Access Key and Secret Key into the relevant fields on the add-on set-up page here. Optionally, you can download a copy of this account information, but keep it safe as this information can be sensitive.
To enable the CloudWatch add-on, go to the add-ons page in your Hosted Graphite account and choose the option for Amazon AWS CloudWatch. From there you can select the AWS services you wish to connect with.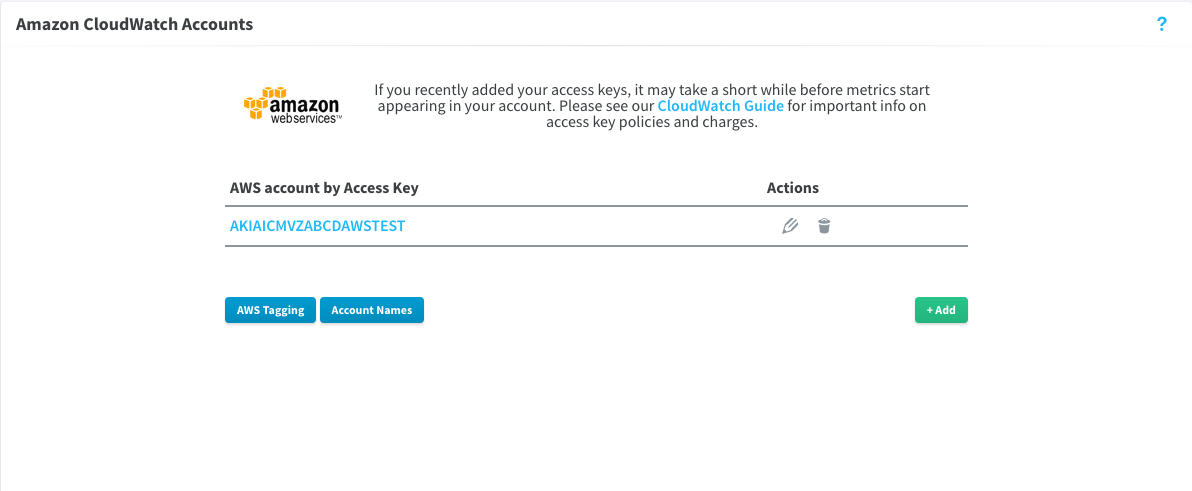 If you have any questions about getting your AWS instances connected to Hosted Graphite, contact our team. We're happy to help you!