Introduction
The security camera is one of the most prevalent IoT devices being used today. Ironically, one of these cameras' primary vulnerabilities is that they may be stolen or damaged - you need protection for the security cameras. Having gadgets that operate independently saves time since you may leave them to do the job they intended. However, remotely placed, unsupervised equipment must be monitored, and the most effective method is through the use of an automated monitoring system.
Companies that use PCs, servers, and other computerized equipment understand the need to monitor the devices and the network's operation. Monitoring comes in a variety of types, including safety systems, performance, and usage monitoring. IoT devices are identical to desktop computers. They have a limited capacity and must be inspected to ensure they operate at optimum efficiency to get the most value. It is neither feasible nor cost-effective to hire a staff to continuously monitor the system terminals that all IoT services have; therefore, acquiring an automated monitoring solution is a viable alternative.
An automatic monitoring tool establishes performance thresholds and notifies users when one of the device's statuses exceeds that threshold. This solution eliminates the requirement for the IT staff to monitor IoT devices constantly. Performance thresholds are often established at a level that provides enough time to address a possible issue before it becomes critical. As a result, support personnel may concentrate on other duties and handle problems with IoT devices only when an alert is raised. Allowing a monitoring tool to handle all of the equipment performance has proven very effective for IT teams responsible for managing office networks. The same approach applies equally to IoT devices.
Challenges in IoT Device Monitoring
An IoT device's defining feature is that it has a CPU and is linked to the Internet. Whether your IoT devices are connected to your private network or the Internet directly, they may be reached. You do not need to check each piece of equipment to upgrade its firmware since the manufacturer does this task automatically through the Internet.
There are many significant issues to consider when it comes to Internet-connected gadgets. Any piece of technology that the owner or manufacturer may modify remotely is hacker-friendly. The manufacturer often creates the system admin username and password by default when the firmware is installed, and all systems manufactured by that manufacturer use the same credentials.
Operators of IoT devices must prioritize security, and the first step is to reset the password for each device's administrator account. Again, having a single shared password for each device introduces a security vulnerability — if a hacker guesses that one password, your whole network of devices becomes vulnerable. If you manage hundreds of IoT devices, coming up with unique passwords and remembering them all is a monumental job. Once again, this is a task that requires the assistance of an automated tool. IoT device monitoring and management solutions keep track of the security and health of machines.
Best tools for monitoring IoT devices
There are many methods for monitoring IoT devices available today. However, not all of them are worthwhile. You may spend a great deal of time and money researching these tools and yet come up empty. The first issue you will encounter is that you will likely be unsure where to search or which characteristics to emphasize. This was the reason for us to write this tutorial. We scanned the market for the finest IoT device monitoring solutions and reduced the field to the top seven contenders.
MetricFire
MetricFire is an all-in-one application and infrastructure monitoring platform based on a collection of open-source server monitoring tools. MetricFire offers both Graphite and Hosted Prometheus configurations that enable real-time metrics monitoring through fully customizable Grafana dashboards.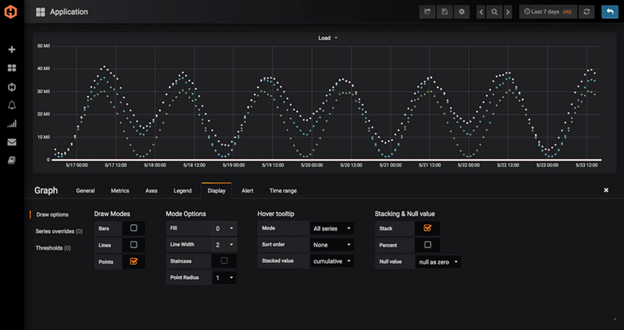 MetricFire's Grafana Dashboards are available here.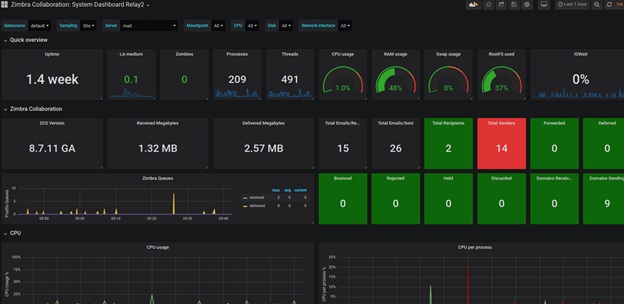 MetricFire Advantages:
Hosted Graphite has all of the features that vanilla Graphite lacks.

Beautiful Grafana dashboards for viewing your analytics

Long-term storage

Expert technical assistance when required

Alerts for critical events (Via email, VictorOps, PagerDuty, Webhooks & more)

Allows you to automate and change anything via the use of built-in APIs. Allows you to work together and share with your teams or restrict access
You should join up for a free trial of MetricFire here and begin creating hosted Grafana dashboards from inside the platform. Send metrics in minutes and monitor your whole system with a single agent installation. Additionally, you may schedule a demo and communicate directly with MetricFire about the best way to monitor your cloud servers.
AWS IoT Device Management
Amazon Web Services (AWS) is a cloud computing powerhouse, providing many system administration capabilities in addition to remote service space. AWS IoT Device Monitoring is a specific module within the Amazon cloud services family.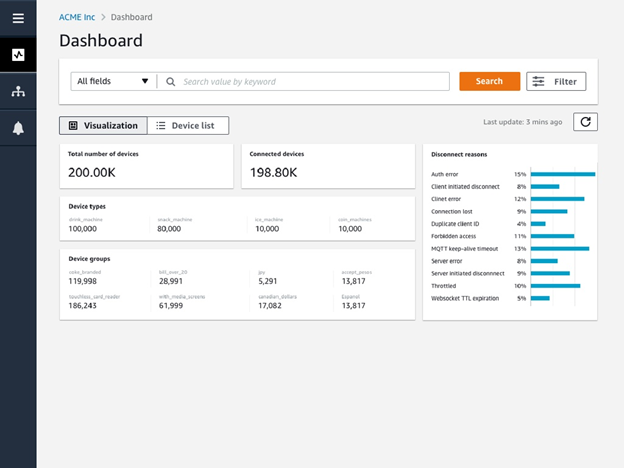 AWS IoT Device Management is a cloud-based solution available through a web browser from any location and can manage devices located anywhere in the globe. The product is straightforward to configure and use, owing to guides for almost every operation.
Devices can be listed and maintained in batch or independently. The system administrator can establish groups of devices to conduct standard automated operations on all comparable devices simultaneously without repeating each command.
Patches and updates can be managed, configuration changes can be sent out, and passwords can be managed across all devices. Encryption is used to secure connections to machines, and there is a VPN solution for complete confidentiality. A log collecting service allows the integration of IoT devices into a company-wide SIEM system. AWS IoT Device Defender is a module included in the system that monitors performance and behavior to ensure availability and detect potential hacker actions.
Senseye PdM
PdM stands for "predictive maintenance," and Senseye PdM is about monitoring factory floor robots for failures. This IoT device monitoring solution is optimized for industrial equipment and uses machine learning methods to forecast when preventive maintenance will be required.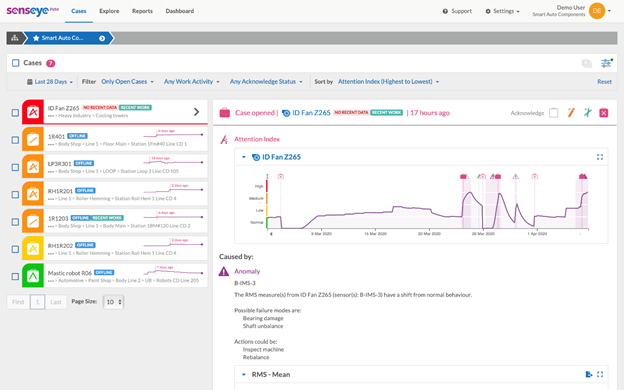 The PdM tool establishes a window of opportunity for maintenance, allowing the plant management team to arrange downtime outside of crucial production hours. Because this system is cloud-based, it may be accessed from any location on the planet. This enables headquarters personnel to oversee manufacturing locations located across the globe from a single location.
TeamViewer IoT
TeamViewer is well-recognized for its remote access and teleconferencing solutions. However, the business also offers remote device monitoring software capable of managing Internet of Things (IoT) devices.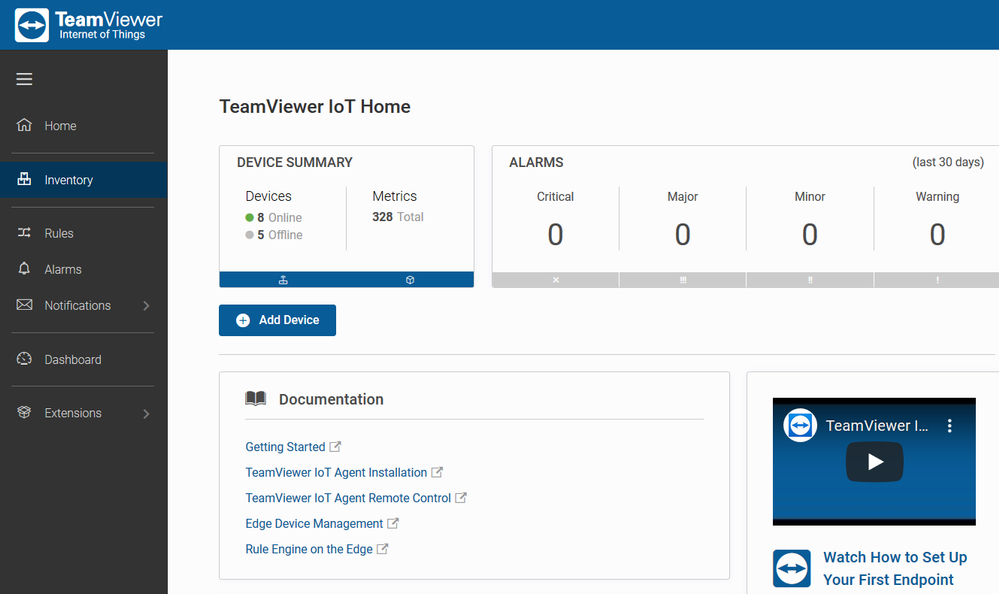 Since TeamViewer IoT is a cloud-based solution, it enables the monitoring and management of IoT devices located anywhere in the globe from a single central location. Being a well-known provider of teleconferencing services, TeamViewer was also able to include collaborative features in its monitoring tool. This enables an HQ production engineer to collaborate with a local manufacturing manager to enhance the effectiveness of IoT devices. Additionally, the remote manager is capable of controlling IoT devices through the TeamViewer service.
TeamViewer's IoT monitoring solution is not restricted to industrial robot management. Additionally, it is capable of monitoring antivirus and security systems. Encryption and services are used to protect every communication, and the IoT management system allows the strengthening of security for individual devices. TeamViewer IoT is a free application that allows you to monitor two IoT devices.
SkySpark
SkySpark's monitoring system gathers all accessible data from intelligent devices and filters it for relevant metrics indicating performance, capacity, and usage.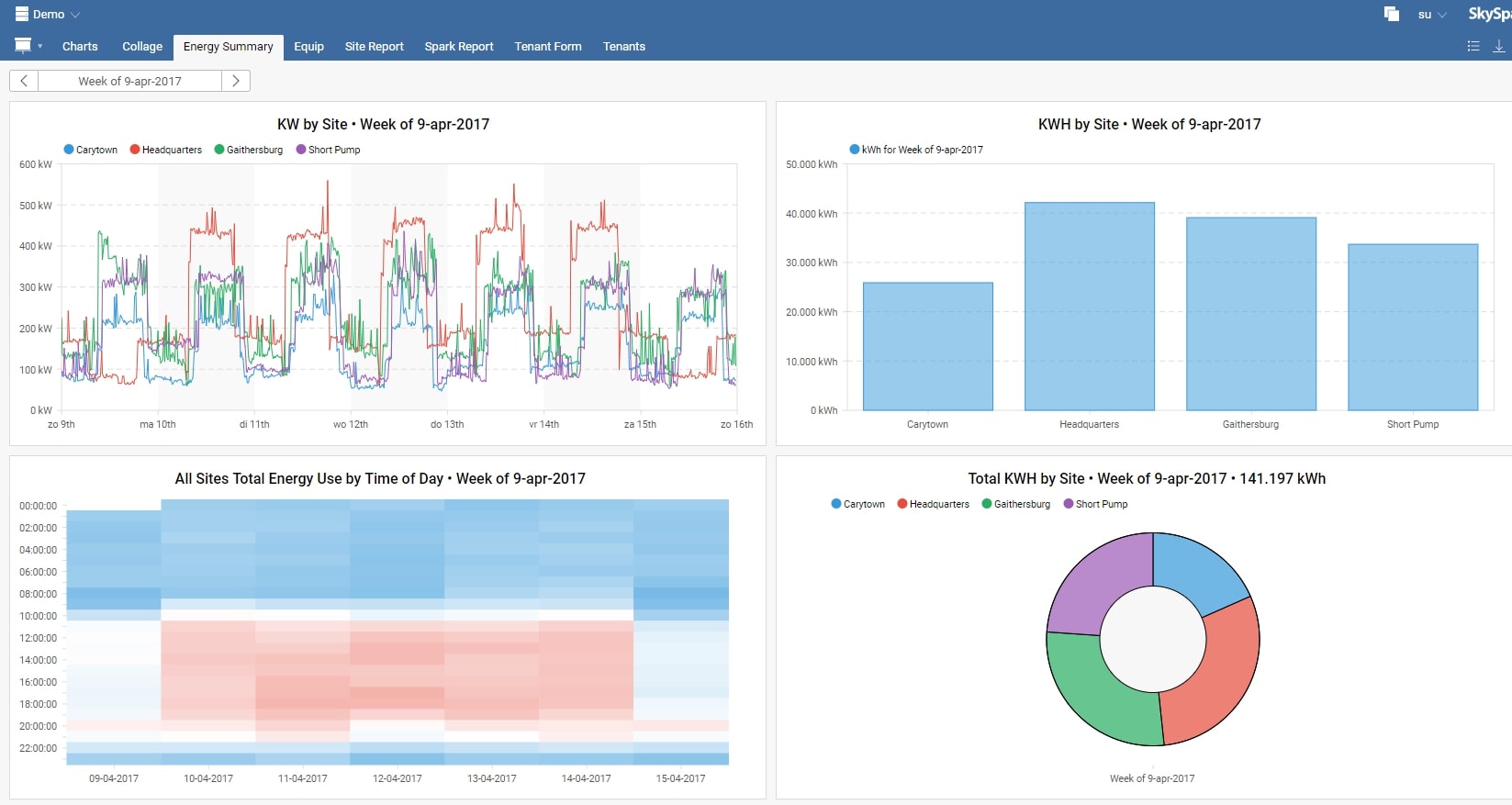 The issue with several smart device firmware systems is not that they lack methods for creating performance data but that they sometimes generate excessive information. Detecting critical information is a specialized job that has been integrated into the SkySpark program. SkySpark is a cloud-based technology that may be accessed from any location. The dashboard provides insight into capacity usage, highlighting areas of unequal task distribution. It enables the identification of process bottlenecks and the rerouting of activities to maximize the return on investment from IoT devices.
SkySpark's analytical capabilities analyze each device's settings, determining if the equipment is tuned correctly for its intended use. This increases the possibility of getting maximum value from IoT investments. The SkySpark IoT monitor continuously monitors the behavior and performance of all devices inside a company, regardless of their location. An alerting system brings attention to emerging issues on time, allowing the equipment to be repaired. Additionally, a demand analysis process recommends the optimal time to conduct preventive maintenance to ensure that all equipment is operational when required.
Datadog IoT Monitoring
Datadog is a cloud-based infrastructure monitoring package with specific algorithms for monitoring Internet of Things (IoT) devices. Although the service's processors and dashboard are housed on Datadog servers, agent software is deployed on each IoT device.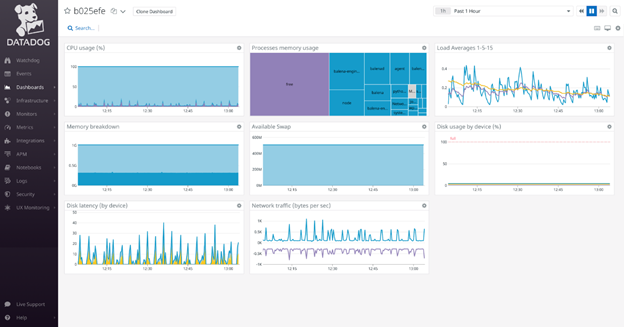 The monitoring agent is capable of collecting statistics and communicating with the Datadog servers in a two-way fashion. All communications are encrypted to prevent hackers from intercepting them. The agent allows hardening device security by allowing all of a fleet's admin passwords to be set to a unique, hack-proof string. Not every firmware for IoT devices is capable of running the agent. In these instances, Datadog may gather data through firmware APIs. The Datadog service monitors more than 100 statuses concurrently using performance alert thresholds. Additionally, the solution focuses on configuration hardening and protection, as well as security monitoring.
Domotz
When it comes to IoT device management and monitoring, Domotz has an impressive feature set. Since this product is subscription-based and charges a modest monthly fee per site, it is an excellent choice for companies of all sizes. It also applies to extremely small companies, which may get the complete range of services for a modest price covering only one location.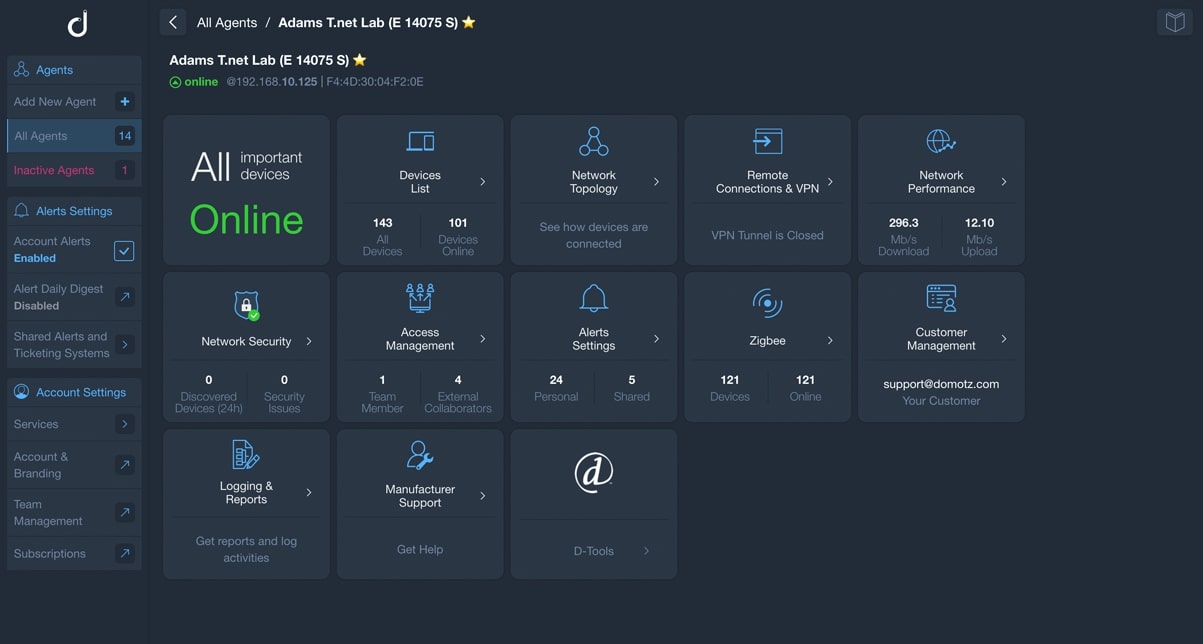 All communications between monitored devices and Domotz server and the connection between the user and the console software are encrypted. Domotz's dashboard may be viewed from any web browser and any place. The system will create a topological map of your IoT network, and there is no restriction on the number of devices that may be included in the service for one fixed price per site. The service's capabilities include power supply control, ONVIF integration of security cameras, and incorporation of intruder alerts.
Domotz integrates security services such as on-demand VPN access and perimeter network security checks. The Domotz system integrates with ticketing systems and can communicate with PSA services, making it ideal for managed service providers. It is also an excellent choice for multi-site companies that wish to concentrate their technical knowledge in one place due to the one fee per site and WAN connection monitoring. Domotz is a month-to-month service that does not need a commitment. Domotz offers a free 21-day trial of their IoT monitoring solution.
Conclusion
IoT devices are important assets, and their actions may significantly increase your organization's profitability. However, if you are not monitoring those IoT devices, you are not maximizing their value and risk having an IoT failure put your company to a halt. Monitoring IoT devices is critical for company management. There are a number of good IoT device monitoring solutions available at the moment, and the ones mentioned in this article are definitely worth a try. Moreover, MetricFire is our first option for monitoring IoT devices. It establishes performance criteria that check device health automatically, freeing up support personnel for other duties.
You should join up for a free trial of MetricFire here and begin creating hosted Grafana dashboards from inside the platform. Send metrics in minutes and monitor your whole system with a single agent installation. Additionally, you may schedule a demo and communicate directly with MetricFire about the best way to monitor your cloud servers.