Introduction
Let's discuss two popular tools for application monitoring, MetricFire and SolarWinds. This article will look into the similarities and differences between Graphite and SolarWinds, and give recommendations on when to use each product.
At MetricFire we offer a hosted version of Graphite, equipped with add-ons, extra data aggregation, API, and Grafana dashboards - You should try out the free trial here, and see how it compares to SolarWinds.
SolarWinds
SolarWinds has multiple suites of products to monitor applications, servers, networks, and storage. The trial version of SolarWinds products can be downloaded from the Downloads page. The products need to be installed on either Windows 8, 8.1, or newer. As for Windows Server, we need 2012, 2012 R2, or newer.
Here is the list of products offered by SolarWinds:
‍
Each of these products has its own requirements. Some of them belong to the Orion suite of products. Almost all of these require an additional physical server, usually in the form of a Microsoft SQL Server database.
‍
SolarWinds Orion Application Monitor
We installed SolarWinds Orion Application Monitor in our test lab. The installation took around 3-4 hours for a single machine installation on Windows Server 2012. The installation requires a database server Microsoft SQL Server 2012 or newer as a prerequisite. The installation also installs multiple components on the Windows host such as RabbitMq.
‍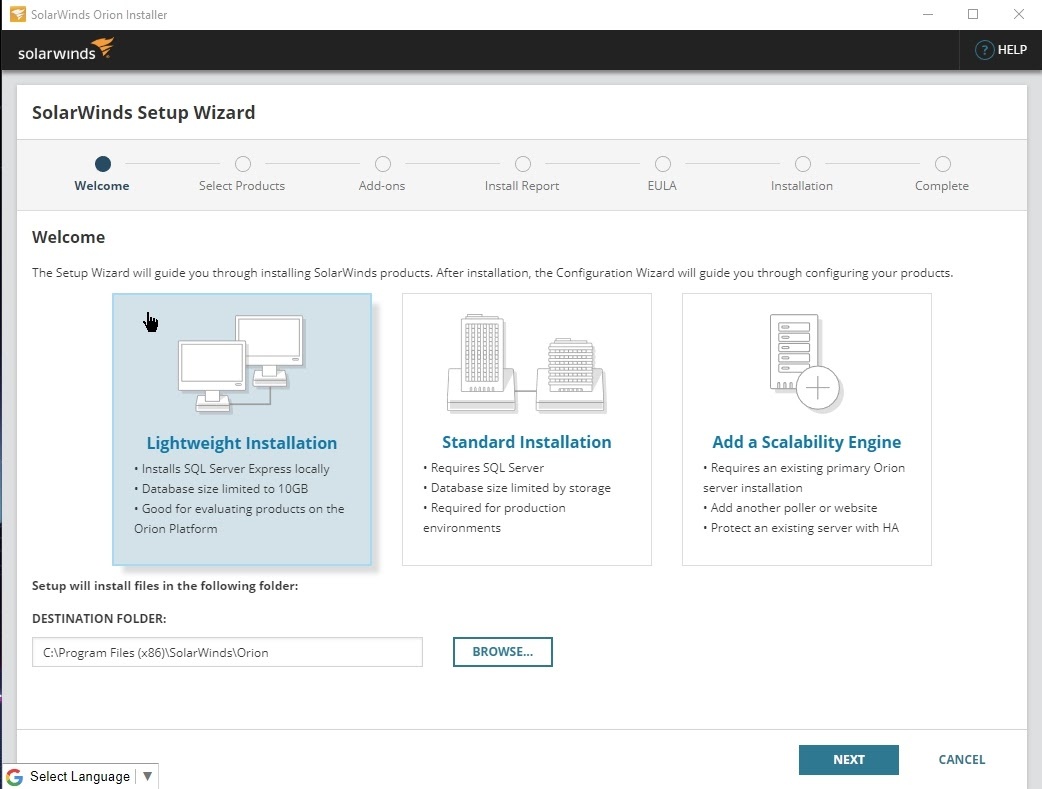 Once the installation is complete, you are presented with a login screen:
‍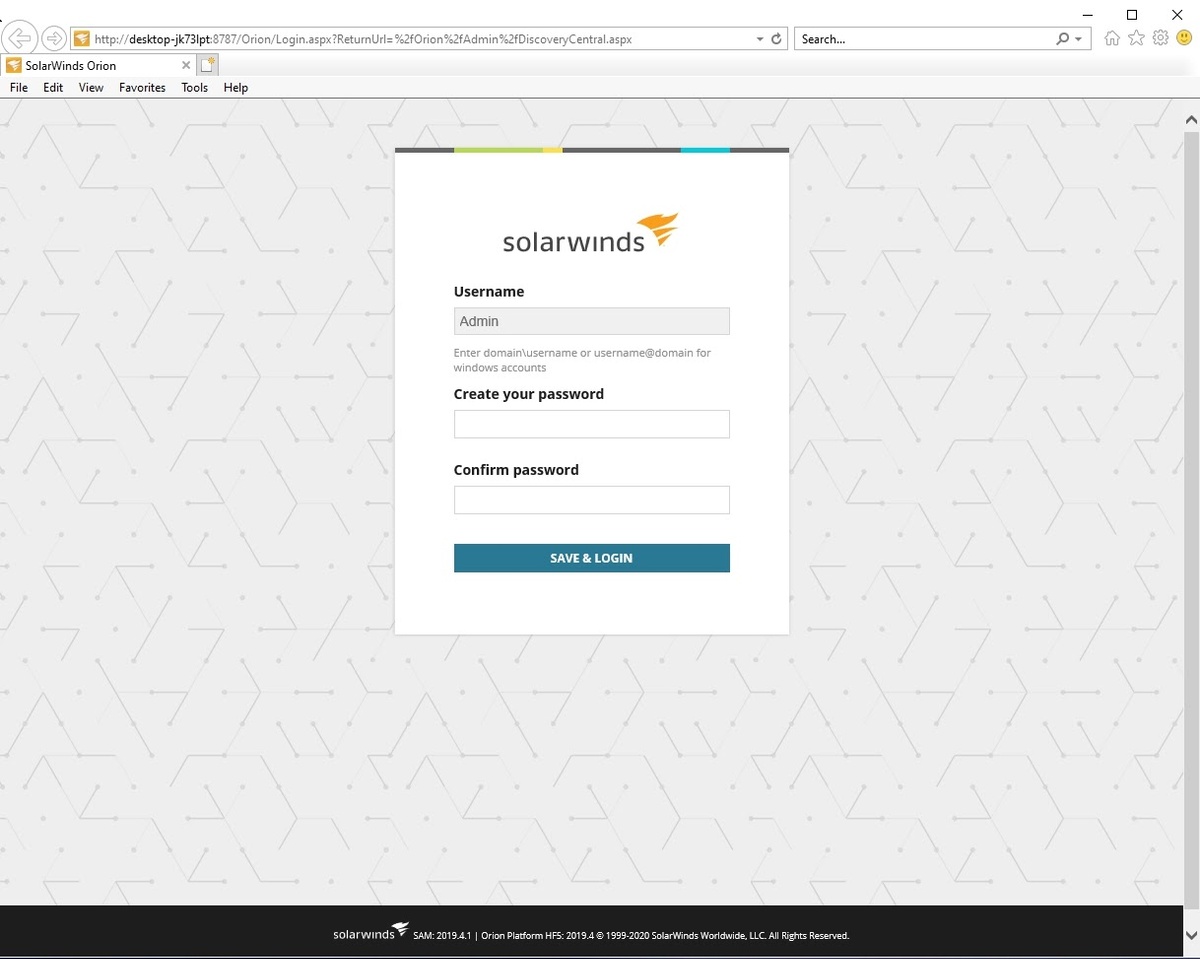 Once logged in, you will be required to start a configuration wizard where you will configure the list of hosts and applications to be monitored.
‍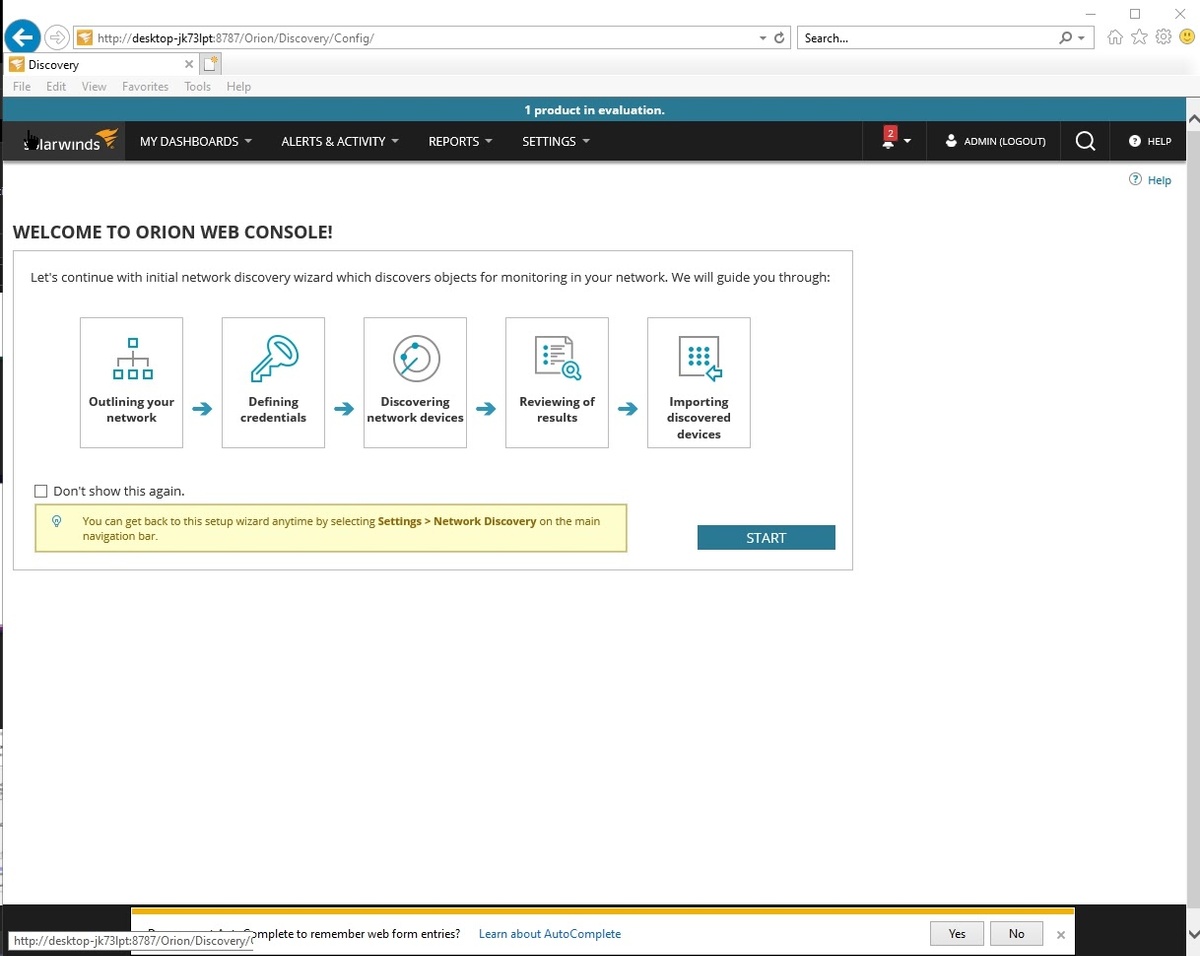 ‍
Once the configuration wizard is completed, it will display the list of nodes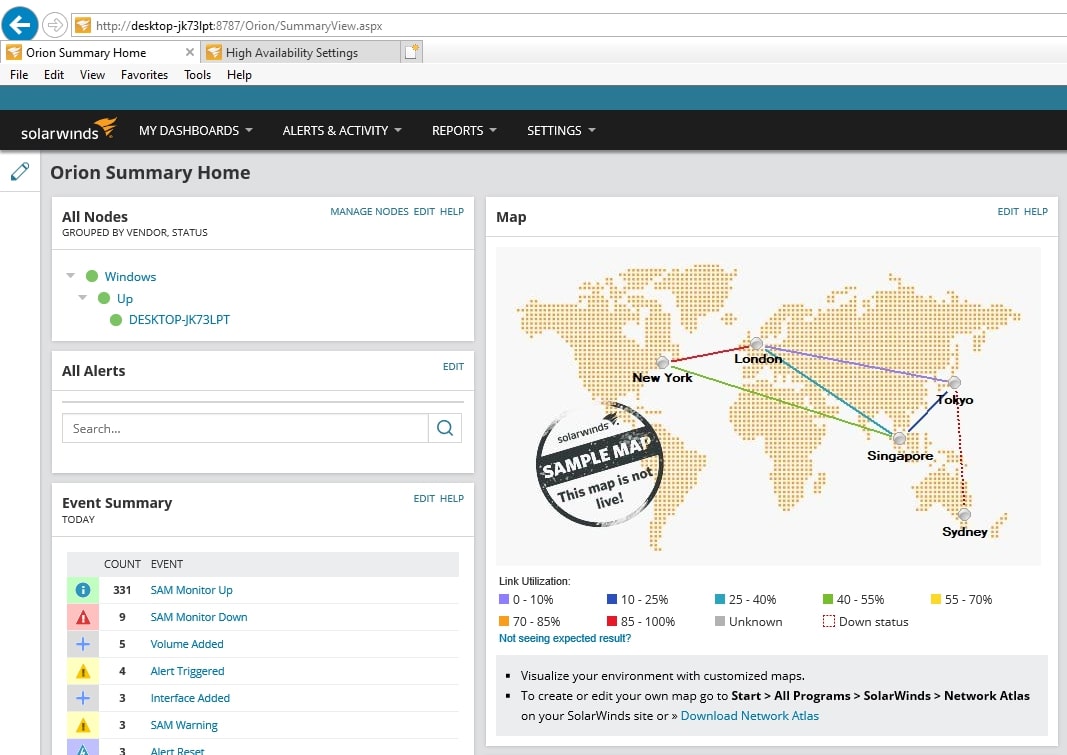 You can see details about specific nodes and their details such as the list of services which they are running, add alerts, and perform management functions such as ssh, reboot etc.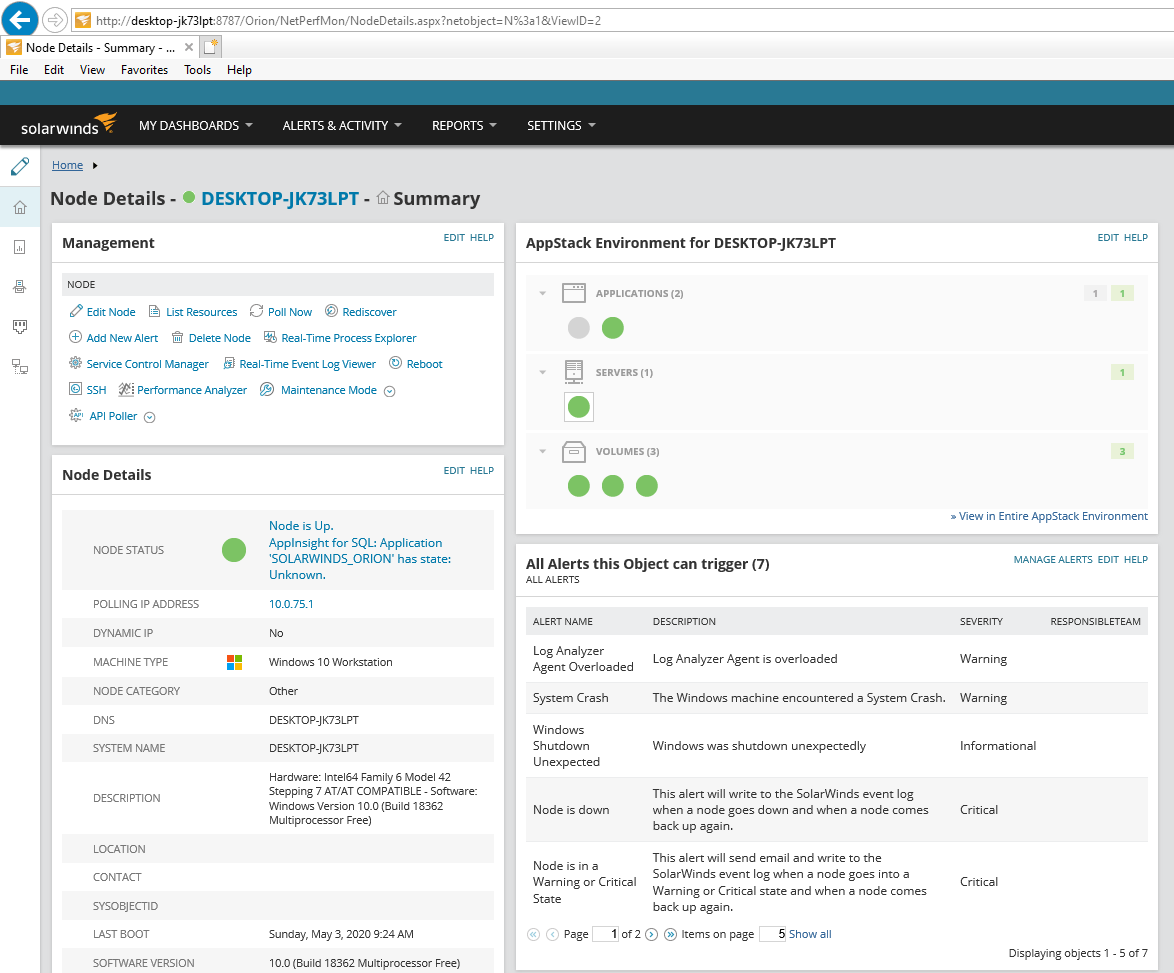 It will also display CPU Usage, memory usage, disk usage and the top 10 processes by CPU usage and memory usage.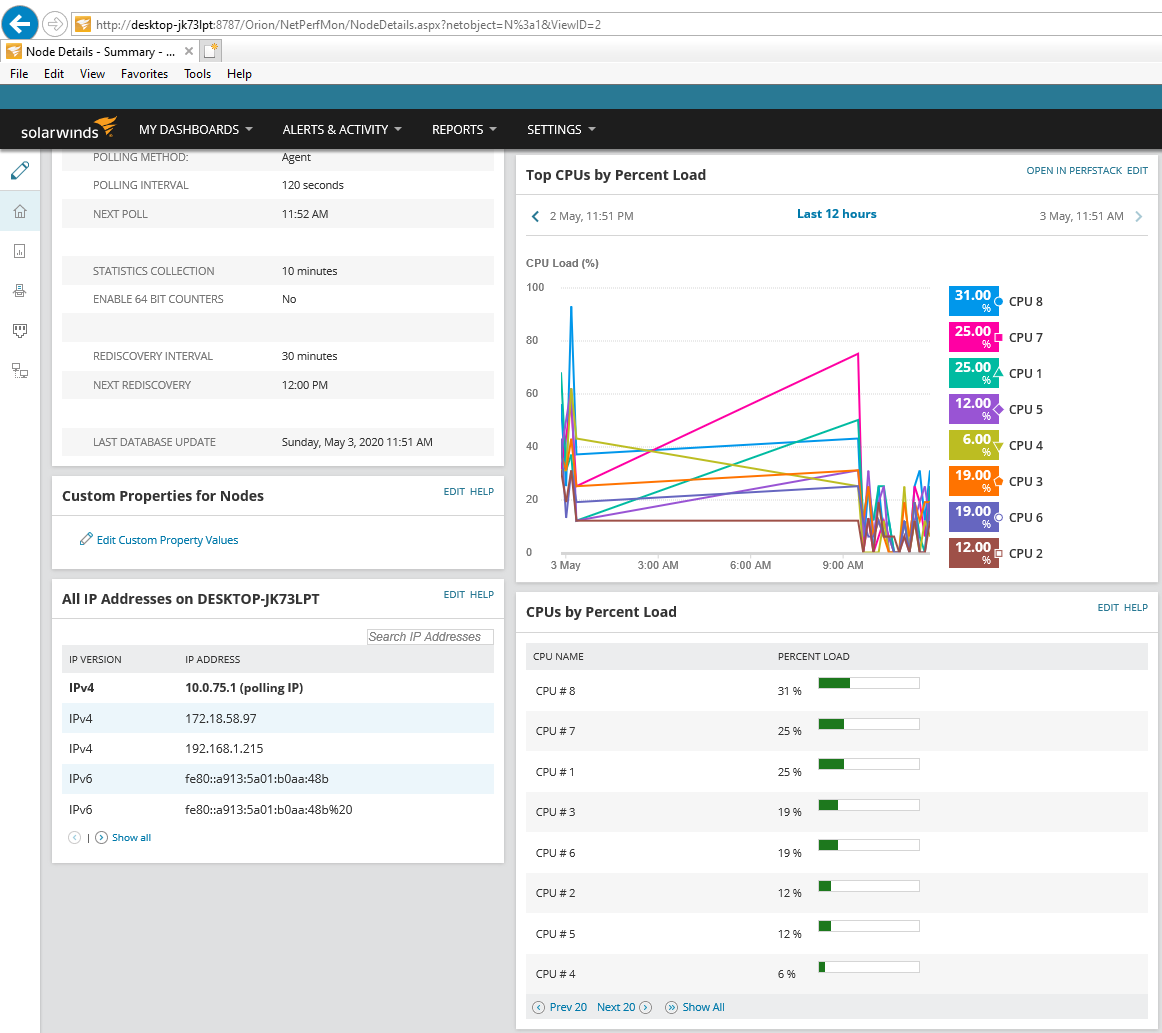 Here are some of our observations while setting up SolarWinds:
SolarWinds products can only be installed on Windows OS.
Organizations that are not used to working with proprietary systems such as Microsoft Windows and Microsoft SQL Server will find it difficult to set up and monitor their systems with SolarWinds. They would need to onboard admins proficient in Windows Server and SQL Server.
It requires tons of effort and time to set up a working single machine instance of SolarWinds running a single product. Since it's proprietary software, there will be no solutions to any issues encountered during setup on the Internet. Reaching out to SolarWinds customer care support and paying additional support fees is the only option.
‍
Comparison with MetricFire
Graphite is an Open Source software that is capable of storing and displaying any kind of metric. Graphite mainly consists of 3 main components: A web application graphite-web, a database whisper, and a server component carbon. It is also very easy to horizontally scale MetricFire by adding commodity hardware.
As graphite functions as a storage for any kind of metrics, metrics related to application servers such as CPU Usage, memory, and network statistics need to be pushed into the Graphite server in order to be made visible on either Graphite Web or Grafana. Have a look at this article Monitoring with Graphite: Installation and Setup on how to push custom metrics into Graphite server.
To find out more about Graphite, check out our articles on Graphite concepts and architecture and Graphite installation and setup. Also, try out the MetricFire free trial where you can use both Graphite and Grafana in our hosted platform.
To run a production-grade Graphite cluster requires considerable investment into servers and time.
To help reduce this setup time, MetricFire has an offering called Hosted Graphite. We compared features such as scaling, security, and support from both the platforms:


Out-of-the-box scaling
‍MetricFire provides out-of-the-box scaling as your number of users/metrics increases. In contrast, Scaling SolarWinds requires adding Additional Polling Engines, which in our experience was quite a complicated exercise to perform on-premises.
Automatic backup of data
‍MetricFire offers automatic backup of data to make sure data can be quickly recovered in case something goes wrong. In contrast, SolarWinds requires the following 14 manual steps to perform a backup.
24 / 7 on-call Support
‍Both MetricFire and Solarwinds provide 24 / 7 on-call support. One thing to be noted here is that if the customer goes for Perpetual licensing with SolarWinds, the customer would need to purchase yearly ongoing maintenance and support for an additional fee at the end of the first year.
Security
‍Both solutions provide high security using SSL.
Automatic Updates
‍MetricFire provides automatic updates to Graphite and its components such as Python, Django, Apache Web Server, and database engine. Customers don't have to worry about the upgrades as they are rolled out without downtime. In contrast, SolarWinds have a complicated upgrade procedure for its products which requires potential downtime of the services.
‍
Pricing Options
‍
SolarWinds
There are 2 types of licensing models offered by SolarWinds: Perpetual Licensing and Subscription Licensing.
‍
Perpetual Licensing
This option gives the right to use SolarWinds products indefinitely for an upfront fee. After the end of the first year, you have the option to purchase yearly ongoing maintenance and support for an additional fee.
‍
Subscription Licensing
This option gives the right to use SolarWinds products for a defined term (1-5 years). During this period, you have access to 24/7 support and version upgrades. The subscription licensing payments are much less than the upfront Perpetual fee, however, the software will cease functioning at the end of the term unless renewed.
‍
Graphite
Graphite, being an open-source software is absolutely free of cost. Also, it can run natively on the Linux operating system which is also free. Hence, the total cost of ownership of running a Graphite cluster is much lower than the SolarWinds cluster. SolarWinds requires expensive licenses for not just running SolarWinds software, but also Windows Operating System licenses and licenses for Microsoft SQL Server.
MetricFire Pricing
MetricFire pricing is primarily based on the number of metrics and the size of the team. There are different plans starting from Basic which offers 6 months retention and 2 users to the Premium plan which offers 2 years retention with 50 users. A custom enterprise plan is available with Unlimited users for very large requirements.
One good thing about MetricFire pricing is that it starts from very low pricing (as low as $85 / month) and then incrementally larger plans are required for increasing requirements. There is also a free trial, where you can get a lot of your setup done before even paying. Thus, the upfront investment required to set up MetricFire is very low compared to SolarWinds.
‍
Conclusion
We evaluated both SolarWinds and Graphite for monitoring, as well as MetricFire for those who want to use Graphite without all of the hassles. SolarWinds is a solution for enterprises that don't have the technical expertise to set up their own monitoring solutions using open-source software such as Graphite and Grafana.
SolarWinds also requires considerable investment into proprietary software such as Microsoft Windows, Microsoft SQL Server, and SolarWinds itself.
Graphite is an open-source enterprise solution for storing and monitoring any OS, application, or custom metrics. It is used by thousands of enterprises worldwide such as Github, Salesforce, Booking.com, Reddit, etc. For enterprises, that want to instantly set up and utilize a production-grade Graphite cluster, you can try out MetricFire by signing up for our 14-day free trial.
You can send metrics into our platform and visualize your data with Grafana within a few minutes. If you have any questions, book a demo and talk to us directly about how MetricFire can improve your monitoring.