Amazon Elastic Block Store (EBS) is a block-storage service designed for Amazon Elastic Compute Cloud (EC2). It is designed to scale for and support both throughput and transaction-intensive workloads. Amazon EBS is used to deploy a wide range of workloads, including relational and non-relational databases, enterprise applications, big data analytics engines, file systems, containerized applications, and media workflows.
Amazon EBS the perfect block-storage service for mission-critical systems and can easily scale to petabytes of data.
EBS volumes behave like raw, unformatted block devices that you can mount as devices. You can install a file system on top of your EBS volumes or use them in any way you would use any other block device. You can use EBS volumes as the primary storage for file systems, databases, or any applications requiring access to raw, unformatted, block-level storage. It's also useful for database-style applications that rely on random reads and writes.
Amazon EBS is a great tool for testing, allowing you to duplicate and test your development or production environments. Plus, you can copy Amazon Machine Images (AMIs) or EBS Snapshots to run applications in different AWS regions, allowing you to backup data across geographies help you reduce data loss, and increase data recovery times.
Amazon Elastic Block Store sends data points to Amazon CloudWatch, including volume metrics and fast snapshot restore metrics, which is where a MetricFire integration comes to the fore.
With Metricfire, you can turbocharge your Amazon Elastic Block Store monitoring services. By integrating Amazon CloudWatch with the Metricfire platform, you can display your metrics on aesthetically pleasing dashboards. MetricFire's advanced filtering lets you choose only the data views you want to see and discard the rest. You can also set up simple rules to discard data you no longer keep, plus receive alerts via email or Slack when your block store is doing something it shouldn't.
To get started, first, create a policy that we will later attach to the user.
In the IAM Dashboard, click on Policies (on the left) or Customer Managed Policies under IAM Resources, then click on Create Policy.
Switch to the JSON tab, replace the existing text with the policy provided below, and click 'Review policy'.
Give the policy a name (Eg: HG_policy) and a description (optional).
Save the policy by clicking 'Create Policy'.
Next, we'll create a user to attach the policy. We'll use the Access Key/Secret Key tokens to permit Hosted Graphite to import CloudWatch metric data.
In the IAM Console, click on 'Users' on the left or under IAM Resources. Then select 'Add User'.
Give the user a name (Eg: HG_addon) and 'Programmatic access' for the Access type.
Click 'Next: Permissions' and click the 'Attach existing policies directly' button at the top.
Search for the policy we just created and attach it by clicking the corresponding checkbox, then press 'Next: Review'.
Click on 'Create User' and copy the Access Key and Secret Key into the relevant fields on the add-on set-up page here. Optionally, you can download a copy of this account information, but keep it safe as this information can be sensitive.
To enable the CloudWatch add-on, go to the add-ons page in your Hosted Graphite account and choose the option for Amazon AWS CloudWatch. From there you can select the AWS services you wish to connect with.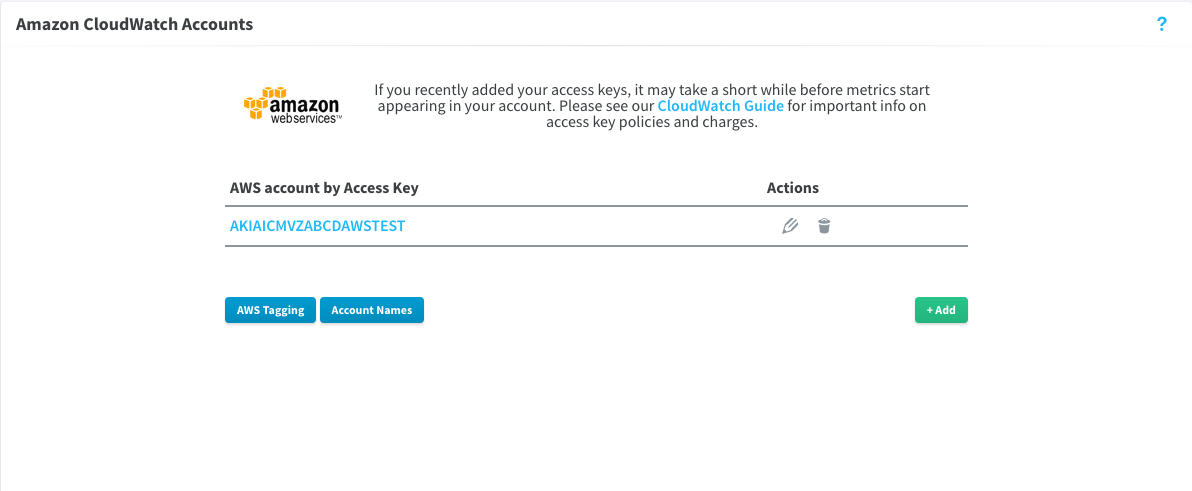 If you have any questions about getting your AWS instances connected to Hosted Graphite, contact our team. We're happy to help you!