Before we dive into the specifics of MetricFire vs. Datadog, let's address the most critical point: scaling. Datadog is great for users who need to do a little bit of everything, but Datadog's biggest weakness is scaling.
Datadog can do logs, APM, time-series and more, but scaling time-series metrics, alerts, and servers will cause your monthly bill to escalate. The graph below shows what you pay at Datadog vs. MetricFire: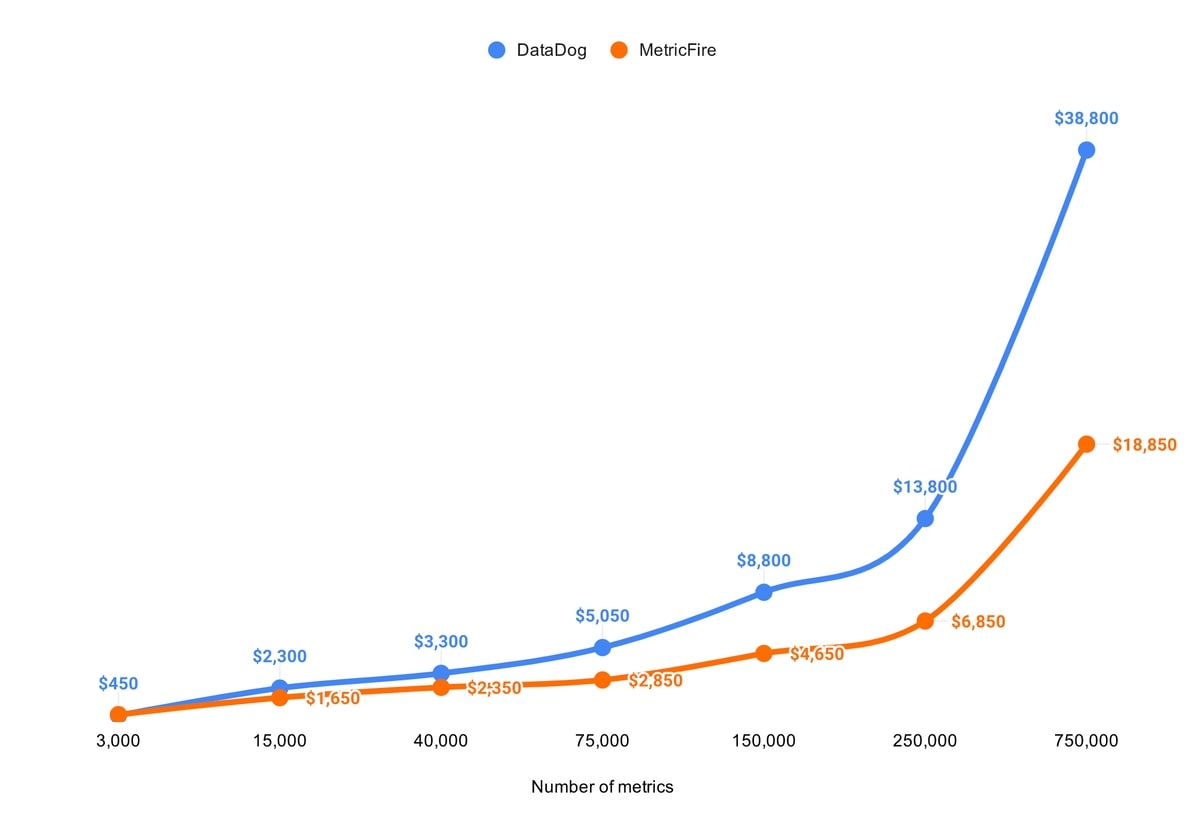 Now, let's dive into MetricFire vs. Datadog, and their key comparisons.
‍
MetricFire
MetricFire is an enterprise-focused monitoring solution providing its users end-to-end infrastructure monitoring built on two primary open-source services: Grafana and Graphite. MetricFire has made technical improvements to these open-source systems, as well as made both open-source projects available as one hosted product. MetricFire is designed for teams of every size, from startups to large scale enterprises.
With Hosted Graphite on MetricFire, redundant storage is available up to 3 times. With Hosted Graphite running on TimescaleDB, essentially replacing Graphite's antiquated file-based whisper storage, one can seamlessly scale with a cluster-based database. MetricFire additionally provides increased support for tagged metrics, automatic backup and 24/7 support from engineers.
Grafana as a service is a highly intuitive user interface that is included in all of MetricFire's standard pricing plans. You should book a demo with MetricFire!
MetricFire vs. Datadog: the core identity
MetricFire and Datadog have fundamentally different identities at their core. Datadog is an agent-based monitoring tool that is easy to plug into any infrastructure or tech stack. Datadog is a proprietary product, and their main interest is making money. Expanding existing subscriptions to pull more and more money out of their customers is a key part of their 2020 business model.
Datadog runs their service by itemizing each feature they have, and then charging extra for new use-cases for using metrics. On the other hand MetricFire is open-source at heart, and we aspire to be a partner in monitoring for our customers.
MetricFire is built on open-source Graphite and Grafana, which means there is absolutely no vendor lock-in. If at any time you want to leave, or start running your monitoring systems on your own, you are able to do that. Also, you can easily customize your own MetricFire account with any of the hundreds of plugins or integrations available in the open source communities.
MetricFire specializes in scaling, and we are here to be your low cost tool for scaling custom metrics. We don't charge extra for metrics that come in through a different source. All metrics are treated equally, regardless of the number of hosts you're working with, or the data sources.
Take a look at this article to see more about MetricFire's core identity - we're here to work with you.
MetricFire vs. Datadog: the agents
The Datadog monitoring agent is the core of their service. You have to use it, and even though it's quick to install it has limited configuration options. You can't get what you need from just the Datadog Agent. If you're interested in monitoring outside of the Datadog agent with Datadog, you have to use their feature called "custom metrics". These are charged at a really high rate in the Datadog platform, and can easily cause your monthly bill to go over 50,000 USD.
On the other hand, as a long-time industry standard, Graphite is supported by a host of monitoring agents, and many other services have Graphite reporting built right in. The list on the Graphite website gives a pretty good idea of how extensively supported Graphite is.
For example, you can easily monitor Kubernetes clusters with a Snap Daemon that is directly compatible with Graphite or Hosted Graphite.
Any Graphite-compatible agent can be used to send data to Hosted Graphite. Hosted Graphite also provides a monitoring agent which is quick to install using our custom script - it's built around Diamond, and the additional features include self-monitoring via the Hosted Graphite Agent UI, a metric relay for your local application metrics, and a configurable datapoint backlog store, to ensure recovery during network fluctuations. You can read more about those features here in the Hosted Graphite docs.
If you're interested to monitor above and beyond what an agent can provide, then MetricFire is the right tool for you. MetricFire specializes in scaling custom metrics monitoring. We allow you to pull in metrics from any source, either through your own custom scripts or through Grafana's world of plugins.
MetricFire vs. Datadog: dashboards, alerts and integrations
Datadog has a dashboard and alerting built into the website - it's one of the main selling points after all. However, MetricFire surpasses Datadog on visualizations through their Hosted Grafana solution.
Where MetricFire excels is in having support in many other graphing products, and an easy-to-use rendering API to provide access to stored data using the full power of Graphite's many functions. Hosted Graphite provides access to Graphite Render API and also a hosted version of the most well-known and powerful dashboard service, Grafana.
But users aren't limited to that, and we have users who use their own local Grafana, or the open-source Cabot dashboard and alerting service.
Grafana is the most well-known; originally it was built primarily for use with Graphite, and has since branched out as other monitoring services introduce similar API support. In every MetricFire plan, customers have access to a hosted version of Grafana as the main dashboarding tool, however the Render API means there are a variety of other options. The Graphite website lists 24 other visualisation tools and 10 different monitoring/alerting tools, giving users the freedom to customise their setup as much or as little as they want.
Check out MetricFire's dashboards here: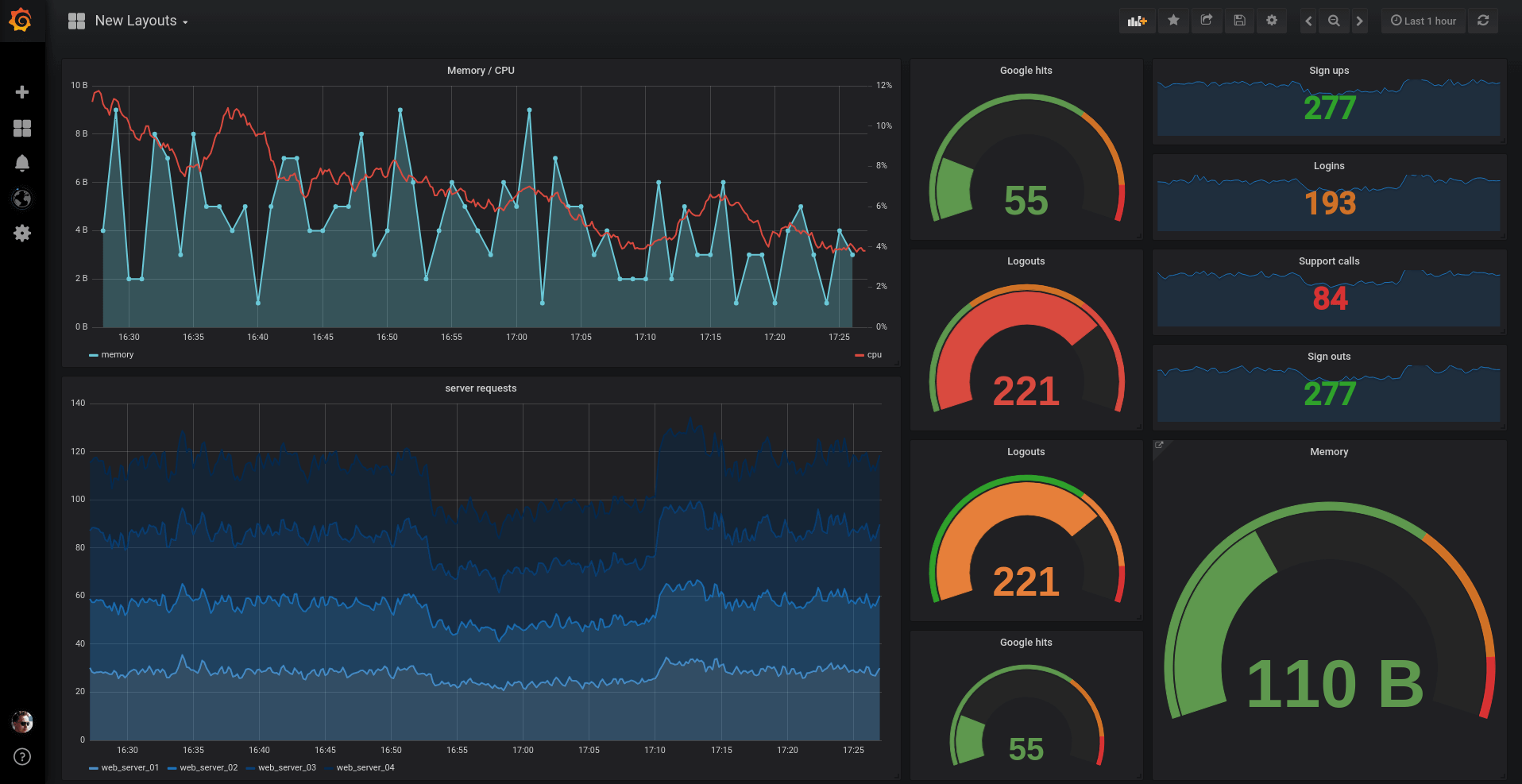 MetricFire vs. Datadog: pricing
Datadog's per-host pricing is set and reasonably inflexible. It has some leeway for containers and custom metrics, but fundamentally you pay what you pay, even if that price includes features you don't use.
When it comes to the MetricFire pricing, check out pricing page here.
We sell bulk metrics - and you get to do whatever you want with them. The rate is extremely low, and you can easily build a very customized monitoring system for your products!
We've done a lot of work into how Datadog charges their customers. While Datadog appears low-cost, it can become very expensive as you scale custom metrics to hundreds of thousands. Check out this price comparison here: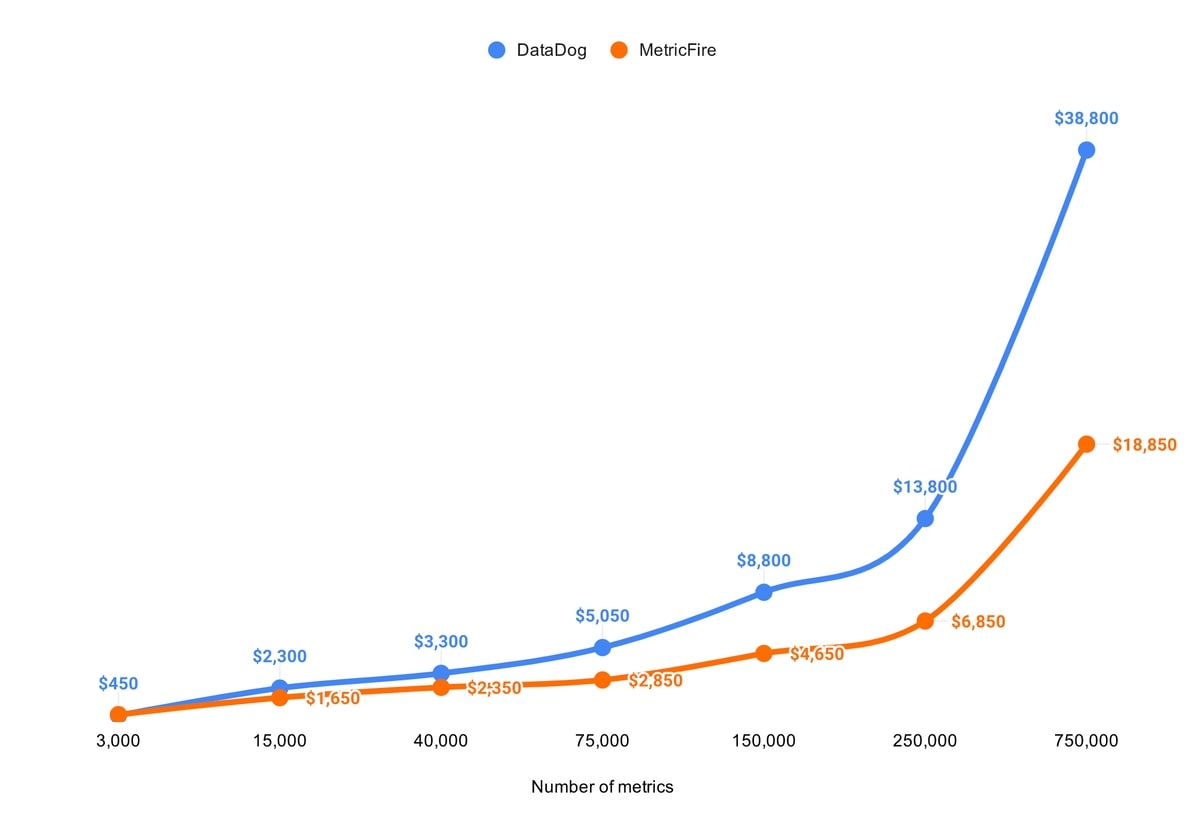 MetricFire's Bonus aggregation tool "Data Views": 9 times the value for money
The figures are on the basis that one Datadog metric is as good as one Hosted Graphite metric, but HG metrics are literally 9 times as good! The reason for this is that Hosted Graphite provides data views, different ways of looking at the same data. Where Datadog supports StatsD, we do all the work StatsD does ourselves, and provide you with an array of different aggregation methods for every metric you store with us. That means you can decide whether you want to view the average, max or even 95th percentile values at the time of making your graph, without having to set that up in advance or store a different metric.
Check out more about the Data Views feature here!
MetricFire vs. Datadog: Prometheus and Kubernetes monitoring
Datadog has the advantage of offering a Prometheus solution. You can't ingest Prometheus metrics in the same style as a real Prometheus installation. However, Datadog still offers a Kubernetes monitoring solution that is agent-based. You can attach Datadog's agent to your Kubernetes cluster, and the agent will send metrics about your Kubernetes cluster to the Datadog platform.