Table of Contents
Introduction
In this post, we are going to look at different tools and strategies for Network Performance Monitoring.
To follow along with this blog article, make sure to book a demo and sign up for MetricFire's free trial where a lot of our customers are doing network performance monitoring using Hosted Graphite and Prometheus service. These tools are part of MetricFire's offering.
What is Network Performance Monitoring
Network Performance Monitoring is monitoring the performance of your organization's network which connects applications to your users and partners. Basically, it is the backbone of any IT services / digital company in today's world.
Network performance monitoring is one of the most critical business functions which organizations have to take. This is because a breakdown in any of the network lines can cripple the entire suite of applications that depend on those networks.
An organization is likely to suffer not only financial loss during the network downtime but also brand damage because of the "network effects" in social media.
Thus, it is very important to have proper monitoring and alerting setup for all of your network infrastructure. Any issue or outage should be immediately detected so that it can be mitigated.
Tools available for Network Performance Monitoring
There are various tools available in the market available for network performance monitoring. We are going to take a quick look at some of these to give you a feature comparison so that you can make an informed decision when opting for one of these tools for your own network monitoring.
Datadog Network Performance Monitoring
Datadog network performance monitoring integrates into the existing Datadog monitoring suite. Available for monitoring Linux Hosts and Window (in beta), it gives the view of network performance right from hosts, containers, services, and cloud regions.
It is able to monitor key network metrics such as TCP retransmits, latency, and connection churn. Datadog claims to use eBPF tracing technology for network monitoring on the hosts which provide low overhead. As with other monitoring tools, Datadog requires a special agent to be installed and running on each of the hosts to be monitored.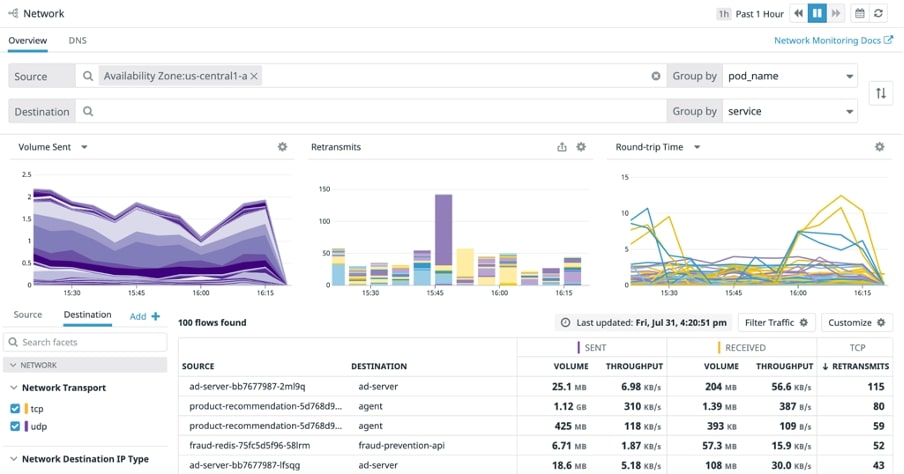 PRTG Network Monitor
PRTG is another popular network monitoring tool. One of the key differences PRTG Network Monitor is that it is agentless, i.e. it does not require an agent to be installed and running on each of the device or host which is to be monitored.
PRTG uses a variety of publicly available API's, technologies such as Simple Network Management Protocol (SNMP) and sensors to retrieve the information and the services on the hosts. The PRTG sensors page gives the full list of available and supported sensor types.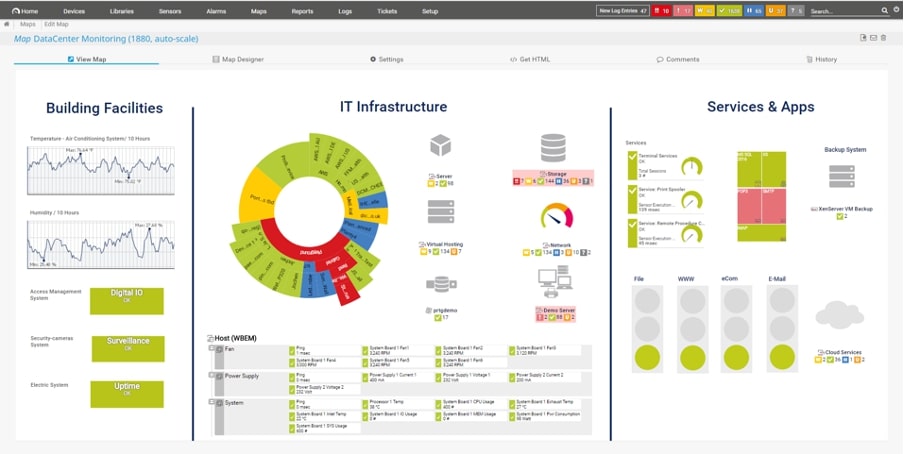 It is worth mentioning that though the PRTG monitor itself is agentless, it does require a heavy power Windows Server Machine to install and run the tool itself. Many of the organizations completely rely on open source Operating Systems such as Linux / Unix.
As of this writing, according to PRTG Network Monitor, a license for 1,000 sensors is enough to monitor about 100 devices.
Pros:
Agentless. Does not require any agent installations.
Cons:
Requires investment into Windows Server machines.
You should get started with a quick demo of MetricFire today to take charge of your network performance! Go ahead and avail a free trial as well. We can integrate with your existing platforms to produce top-of-the-line performance metrics.
SolarWinds Network Performance Monitor
SolarWinds is another tool for Network Performance Monitoring. SolarWinds offers features such as Network Availability Monitoring, Critical Path Visualization, Intelligent Mapping, Performance Analysis, and Advanced Alerting as the key features of its network monitoring suite.
Just like the PRTG Network Monitor, setting up SolarWinds Network Monitor requires heavy investment into Windows Server Machines for the installation of the tool. SolarWinds offers real time statistics from SNMP-, API-, or WMI- enabled devices. SolarWinds Network Performance Monitor also integrates with its Orion Platform.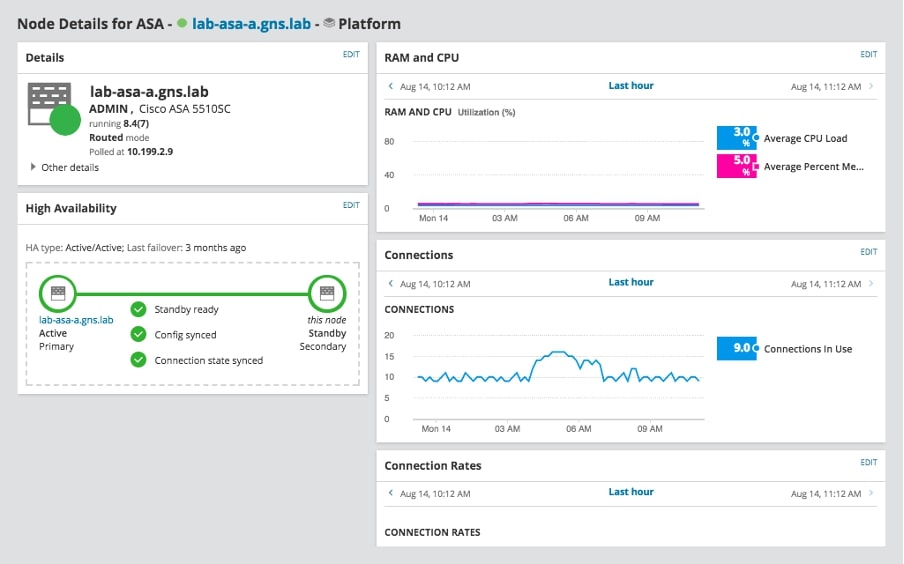 Pros:
Agentless. Uses publicly available technologies such as SNMP to monitor the hosts.
Cons:
Requires investment into Windows Server machines and licenses.

Recently, SolarWinds softwares was used in a cyberattack. Though, as per the company, the vulnerability since then has been patched in the latest versions.
Network Performance Monitoring using Hosted Graphite and Hosted Prometheus
MetricFire's tools such as Hosted Graphite and Hosted Prometheus which are based on open source Graphite and Prometheus provide powerful network performance monitoring capabilities. One of the key advantages of MetricFire's tools is that since they are based on open source tools, they are completely customizable and offer higher flexibility to other tools such as those which are based on proprietary agents.
And thus, the users are able to customize the monitoring and alerting capabilities using the customized shell scripts which pull the required data from the hosts and push them to Hosted Graphite. One other advantage with Hosted Graphite and Hosted Prometheus is that they are designed to be completely cloud based. They do not require any software installation whatsoever into the on-premise hosts of the user.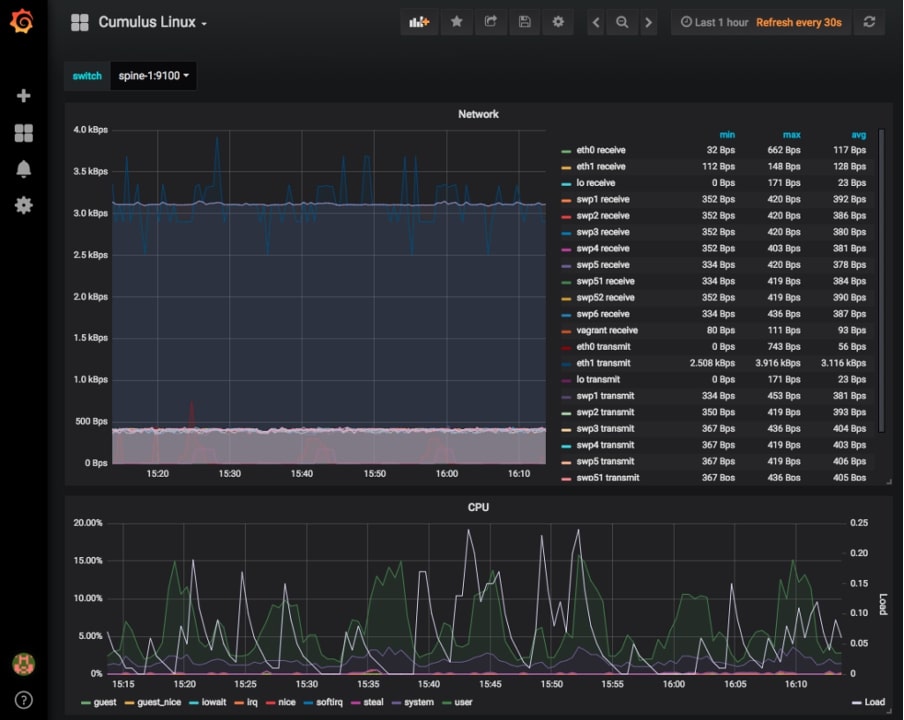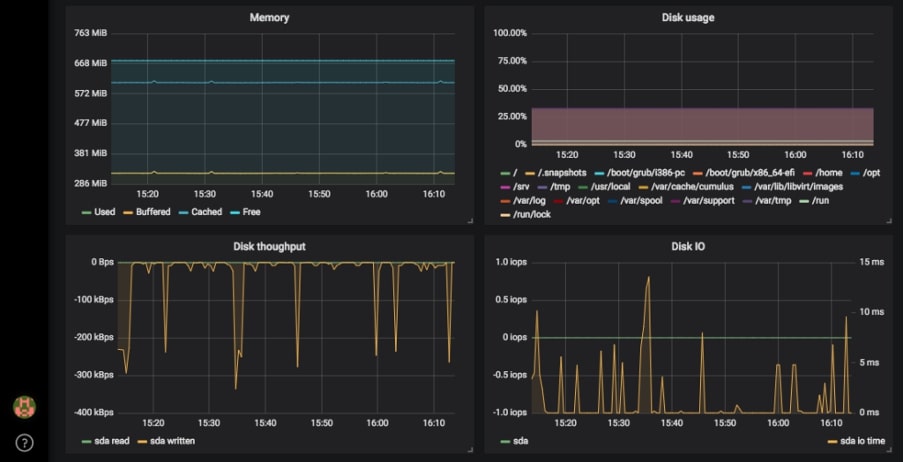 Pros:
Based on open source tools. Does not require investment into Windows licenses.

Cloud based as a first class citizen.
Cons:
Might have a slightly higher learning curve for non-IT professionals
Conclusion
When choosing a solution to evaluate and eventually implement, you should take into account budget, convenience, scope and scalability. Feel free to explore solutions in the cloud or from different vendors if you have been tied in to a legacy vendor for too long.
Numerous network monitoring solutions are available, from open-source configure-it-yourself software to tailored turnkey solutions that meet your environment's specific parameters, whether on-premise or in the cloud. MetricFire brings the best of both worlds to the table by offering a hosted open-source solution.
To get started right away, sign up for MetricFire's free trial of our Hosted Prometheus and Hosted Grafana. Also, if you have any questions about our products, or about how MetricFire can help your company, talk directly to one of our experts by booking a demo.