Table of Contents
Introduction
MetricFire takes pride in providing great customer support and honest pricing. We strive to offer our customers the best price for our services. Hosting and running your own monitoring system in-house can become
In this post, we compare MetricFire's pricing to some of our competitors, how we manage our pricing, and why we price Metrics and Data Points per Second (DPPS). We will also cover FAQs about metric usage overages and upgrading accounts.
MetricFire's pricing compared to our competitors
We want anyone who looks into MetricFire as an option for their monitoring partner to see an affordable and reliable hosted monitoring solution. Below is a breakdown comparing MetricFire's pricing to some of our competitors. Depending on the use case, one of our competitors may be a better fit; however, if you are looking for an affordable, focused and reliable hosted monitoring solution, MetricFire is the right fit for you!
Datadog
Datadog has many features such as logging, tracing, integrations, and more. However, this comes with the requirement of using their agent. On top of this, if your monitoring use case requires custom metrics, then their service can become very expensive very quickly as these are charged at a higher rate than other metrics they ingest. It is clear that Datadog's pricing can become expensive for a wide range of monitoring metrics.
For a more affordable solution with the freedom of agentless monitoring and no nickel-and-diming for custom metrics, MetricFire is the better option for your use case. You can learn more about how MetricFire compares to Datadog here.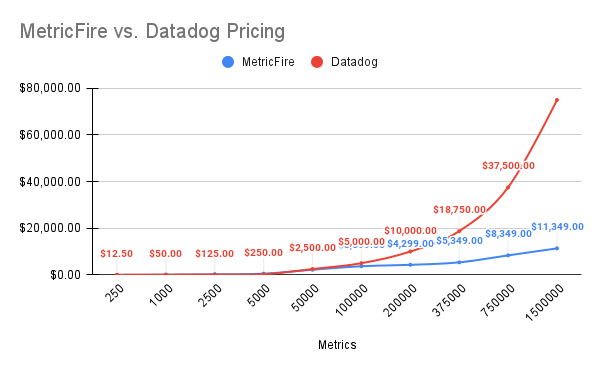 Solarwinds
Unfortunately, Solarwinds quotes for server and application monitoring start at $1,663, with no mention of how many metrics are included. They also have had major security issues in the past. You can learn more about how we compare to Solarwinds from our blog. For a greater in-depth breakdown out our Budget Guide to Server Monitoring to see how we compare to other monitoring platforms.
You can also schedule a demo with our sales and support team to discuss how MetricFire can meet your requirements and your budget.
How our pricing works
At MetricFire our plans are comprised of metrics, alerts, users, resolution, and retention. We offer long-term storage for up to two years and a choice between monthly and annual plans. We are always open to discussing higher limits, for metrics, alerts, users, etc if you have more specific requirements. All you need to do is to reach out, via our live chat, email, or by scheduling a meeting and we will be happy to accommodate your needs.
Our plans are primarily built around the limit of the number of unique time-series metrics you need to send and store with us. We bill on each unique metric name / unique time series metric. So the CPU utilization for one instance will be one metric and sending updated counts for existing metrics will not count as a new metric we bill on. Additionally, we do not bill separately between host (CPU) metrics, custom metrics, or tagged metrics - 1 metric is 1 metric!
We know that being able to respond quickly to changes in your metrics via alerting and sharing your dashboards with teammates is a vital part of any monitoring use case. As such, we don't charge extra for additional alerts and users. On any plan above our Basic option, we provide a large number of alerts and user seats to ensure teams can get the most value from their MetricFire service.
Below you can see our plan tiers' starting prices. To see more pricing and metric options, please go to our pricing page, and select the price that fits your needs.

If you have higher requirements, we can work with you! Reach out to our Sales team, and we will gladly help you find a plan that will suit your needs. We offer Custom plans scaling beyond millions of metrics!
How many metrics am I monitoring?
Possibly you aren't sure how many metrics you need to monitor. This is not an issue at all! We are happy to work with you before you sign up to run load tests in order to accurately determine the number of metrics valuable to achieve your monitoring goals.
Just sign up for a free trial and then we can schedule and run a load test. You can send the metrics you think you need to your MetricFire account and we watch to see how many metrics come in and when/if they drop. This gives our support team a good idea of the appropriate pricing plan to quote you so you only pay for the metrics that you get value from.
Is there a limit to how many metrics I can send?
As our plans are based on the number of metrics you need for your monitoring, before you sign up we can run load tests to accurately determine the number of metrics valuable to achieve your monitoring goals.
Our system can ingest millions of metrics and we process hundreds of thousands of Data Points Per Second (DPPS) if you need to raise your limits, we are always glad to help you or your team with upgrading your usage. Simply contact our Sales/Support teams through the in-app chat feature or via email.
What Happens To My Metrics if I go over my limit?
As part of running any monitoring use case sometimes your metrics can spike if you have an issue or you send additional data unintentionally. We're developers too so we completely understand there needs to be flexibility here. One of our principles is to never nickel-and-dime our customers and always provide fair and predictable billing.
If you happen to have a spike in your sent metrics or you are working on managing your usage, we will reach out to let you know that your account is over your limit and offer our assistance with either managing your metrics or upgrading your account to scale with your usage. We will never delete your metrics, however, if you are consistently going over your limit data points that you are sending will be dropped.
We have features for managing your metrics including metric auto-expiry rules, aggregation rules, and an automatic dashboard and alerts on your account to let you know if you're getting close to the live metric limit and if data points are being dropped
How do I upgrade my account?
If you find that your account is going over its limits you can upgrade your account by going into your account and selecting "Upgrade" or by contacting the MetricFire team.
Conclusion
MetricFire is a more focused and affordable alternative to Datadog, Solarwinds, and other monitoring solutions. You can effortlessly visualize and monitor your metrics and data with a straightforward, predictable and easy-to-understand price point.
In this article, we've looked at how and why MetricFire charges per metric/DPPS, how MetricFire provides an affordable alternative to our competitors, as well as the advantages of using MetricFire above our competitors. You can book a call with us to see how our platform works and if our pricing will fit your use case and budget.
If you need an affordable hosted monitoring solution, MetricFire is the right solution for you. To get started with our Hosted Graphite and custom dashboard services sign up for a free trial today!