Amazon Kinesis Data Streams (KDS) is a data streaming service that is both scalable and durable and operates in real time. It can capture gigabytes of data per second from hundreds of thousands of sources, including websites, databases, social media feeds, IT logs, financial transactions, and location-tracking events. Real-time analytics tools such as dashboards, anomaly detection, and dynamic pricing are updated in milliseconds.
KDS is based on a producer/consumer model. A producer loads data records into Amazon KDS. A consumer then processes the data records from the stream. For example, a producer could load web server log data to a Kinesis data stream, where a consumer can process and analyze the log data.
You can use Kinesis Data Streams to collect log and event data from servers, desktops, and mobile devices. You can then build Kinesis Applications to process your data continuously, generate metrics, populate dashboards, and aggregate data into stores such as Amazon S3.
You can create Kinesis Applications that run real-time analytics on high-frequency event data events. For example, you could write an application to analyze sensor data collected by Kinesis Data Streams to gain insights into your sensor data.
If you collect gaming data, Kinesis Data Streams can collect data about player-game interactions and feed the data back into your gaming platform. This strategy can help you design a game that provides engaging and dynamic experiences based on players' past actions and behaviors.
With Metricfire, you can turbocharge your data stream monitoring services. By integrating Amazon CloudWatch with the Metricfire platform, you can display your KDS metrics on aesthetically pleasing dashboards. MetricFire's advanced filtering lets you choose only the data views you want to see and discard the rest. You can also set up simple rules to discard data you no longer keep, plus receive alerts via email or Slack when your data streams are doing something they shouldn't.
To get started, first, create a policy that we will later attach to the user.
In the IAM Dashboard, click on Policies (on the left) or Customer Managed Policies under IAM Resources, then click on Create Policy.
Switch to the JSON tab, replace the existing text with the policy provided below, and click 'Review policy'.
Give the policy a name (Eg: HG_policy) and a description (optional).
Save the policy by clicking 'Create Policy'.
Next, we'll create a user to attach the policy. We'll use the Access Key/Secret Key tokens to permit Hosted Graphite to import CloudWatch metric data.
In the IAM Console, click on 'Users' on the left or under IAM Resources. Then select 'Add User'.
Give the user a name (Eg: HG_addon) and 'Programmatic access' for the Access type.
Click 'Next: Permissions' and click the 'Attach existing policies directly' button at the top.
Search for the policy we just created and attach it by clicking the corresponding checkbox, then press 'Next: Review'.
Click on 'Create User' and copy the Access Key and Secret Key into the relevant fields on the add-on set-up page here. Optionally, you can download a copy of this account information, but keep it safe as this information can be sensitive.
To enable the CloudWatch add-on, go to the add-ons page in your Hosted Graphite account and choose the option for Amazon AWS CloudWatch. From there you can select the AWS services you wish to connect with.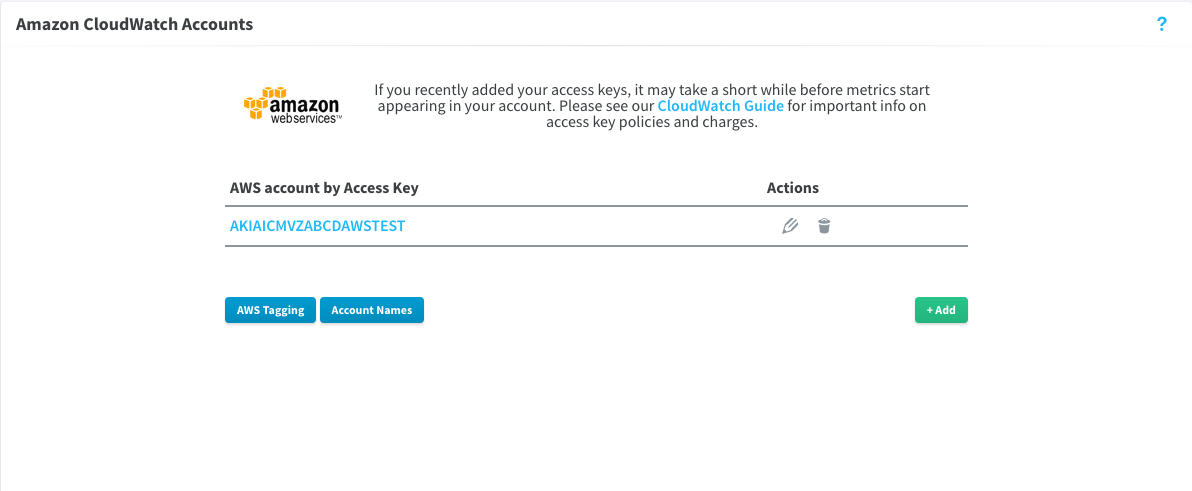 If you have any questions about getting your AWS instances connected to Hosted Graphite, contact our team. We're happy to help you!