GitHub is a service for hosting code and doing version control for code. The foundation of GitHub is "Git" - which is an open-source version control system.
Git allows multiple coders to contribute to one project while remembering which is the most up-to-date version. Git also remembers who contributed and what they contributed to the project. All modifications and revisions are stored in a central repository, and contributions are made through a pull request.
Pull requests can be made by anybody, but they must be approved by the repository admin. In some projects, pull requests can be contributed without approval. However, most projects have some quality assurance processes.
When doing application performance monitoring for a project built in GitHub, you'll want to export data about your GitHub setup into your regular monitoring dashboards. You want to monitor when changes happen, and the effect they have on your system.
For example, if you make a change to your code, and suddenly the latency of requests to your server increases - you'll want to know exactly which pull request caused that change. If you didn't know that there were any changes in your code, then you wouldn't be able to correlate the change in your code with the changes in how your system is behaving. This will slow down your debugging process.
With MetricFire, you can get all of your monitoring dashboards automatically annotated with the changes you've made to your code in GitHub. If there are any changes in behavior, a small note will be present in the graph to tell you what's happening in your environment.
To get GitHub commits flagged in Hosted Graphite follow these instructions:
Go to the Addons page, and in the Annotation Add-Ons section click on the GitHub card.
Copy the webhook URL, including your API key.

Browse to your GitHub repo, visit the 'settings' section, then 'webhooks'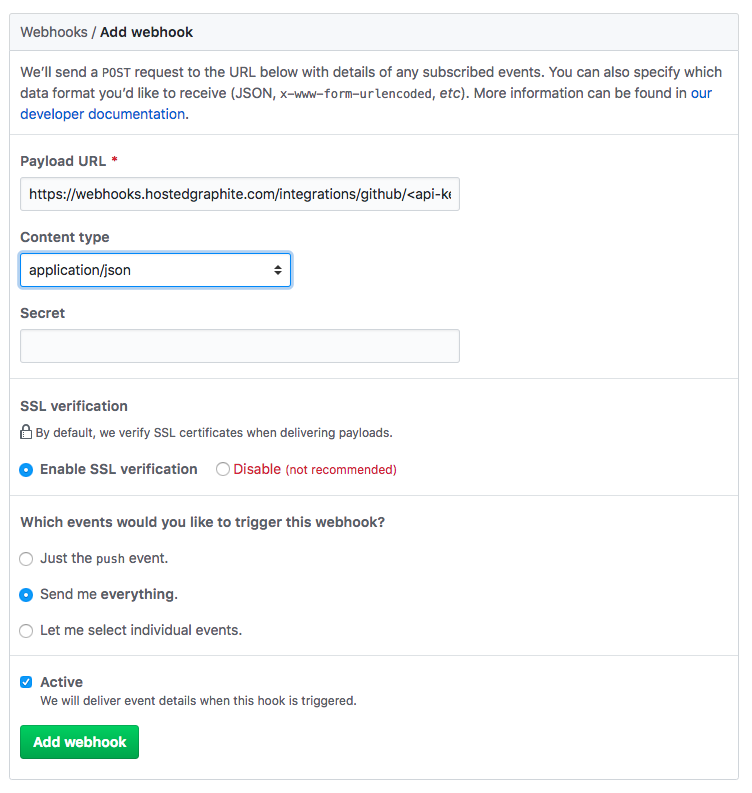 Your GitHub events will now be sent to the webhook URL and saved on your account as
Annotations
. Use the following tags to search for the annotations you want to display:
Push Event Tags
– 'github', 'push', <repo>, <branch>, <user>
PR Event Tags
– 'github', 'pull-request', <action>, <repo>, <user>
Deploy Event Tags – 'github', 'deployment', <status>, <repo>, <user>, <environment>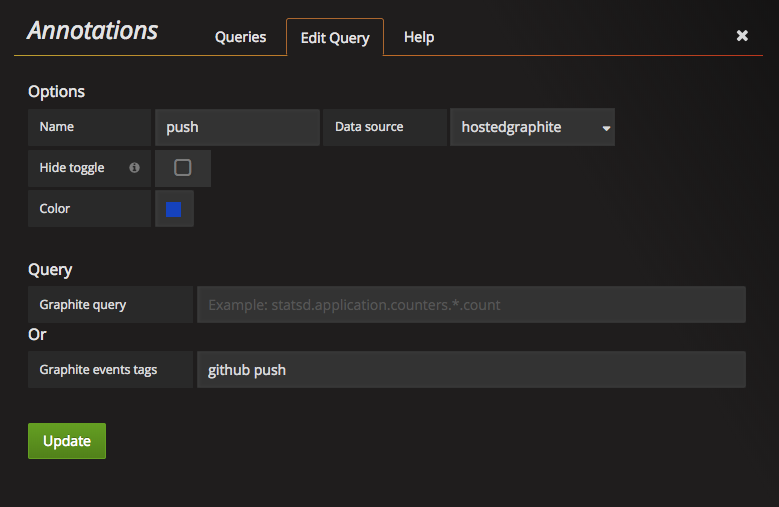 This enables you to automatically monitor the correlation between GitHub changes and how your system is functioning.