Amazon Elastic File System (EFS) provides a scalable but easy-to-use elastic NFS (network file system) for AWS Cloud services and on-premises resources. It supports on-demand requirements to the petabyte scale. It is fully managed and can shrink or expand as you add and remove files. This high level of change removes the need to manage capacity to accommodate growth.
Amazon EFS provides parallel shared access to thousands of Amazon EC2 instances, allowing your applications to achieve high aggregate throughput levels and IOPS (Input/output operations per second) with consistently low latencies.
You can use Amazon EFS for almost any purpose, from small home storage to business-critical applications, including big data analytics, database backups, application development, testing, web serving, content management, media and entertainment workflows, and container storage.
You can monitor your Amazon EFS file systems using Amazon CloudWatch. Metrics include the number of client connections, the amount of data read or written, file system storage, and more. You can use your Amazon EFS console to display a series of graphs based on the raw data from Amazon CloudWatch. For more extensive monitoring, you would find MetricFire an excellent companion thanks to its more advanced features.
With Metricfire, you can turbocharge your Amazon Elastic File System monitoring services. By integrating Amazon CloudWatch with the Metricfire platform, you can display your metrics on aesthetically pleasing dashboards. MetricFire's advanced filtering lets you choose only the data views you want to see, scraping the unwanted data. You can also establish clear rules to toss out data you no longer have, plus get custom alerts via email or Slack when your EFS files system falls out of alignment.
To get started, first, create a policy that we will later attach to the user.
In the IAM Dashboard, click on Policies (on the left) or Customer Managed Policies under IAM Resources, then click on Create Policy.
Switch to the JSON tab, replace the existing text with the policy provided below, and click 'Review policy'.
Give the policy a name (Eg: HG_policy) and a description (optional).
Save the policy by clicking 'Create Policy'.
Next, we'll create a user to attach the policy. We'll use the Access Key/Secret Key tokens to permit Hosted Graphite to import CloudWatch metric data.
In the IAM Console, click on 'Users' on the left or under IAM Resources. Then select 'Add User'.
Give the user a name (Eg: HG_addon) and 'Programmatic access' for the Access type.
Click 'Next: Permissions' and click the 'Attach existing policies directly' button at the top.
Search for the policy we just created and attach it by clicking the corresponding checkbox, then press 'Next: Review'.
Click on 'Create User' and copy the Access Key and Secret Key into the relevant fields on the add-on set-up page here. Optionally, you can download a copy of this account information, but keep it safe as this information can be sensitive.
To enable the CloudWatch add-on, go to the add-ons page in your Hosted Graphite account and choose the option for Amazon AWS CloudWatch. From there you can select the AWS services you wish to connect with.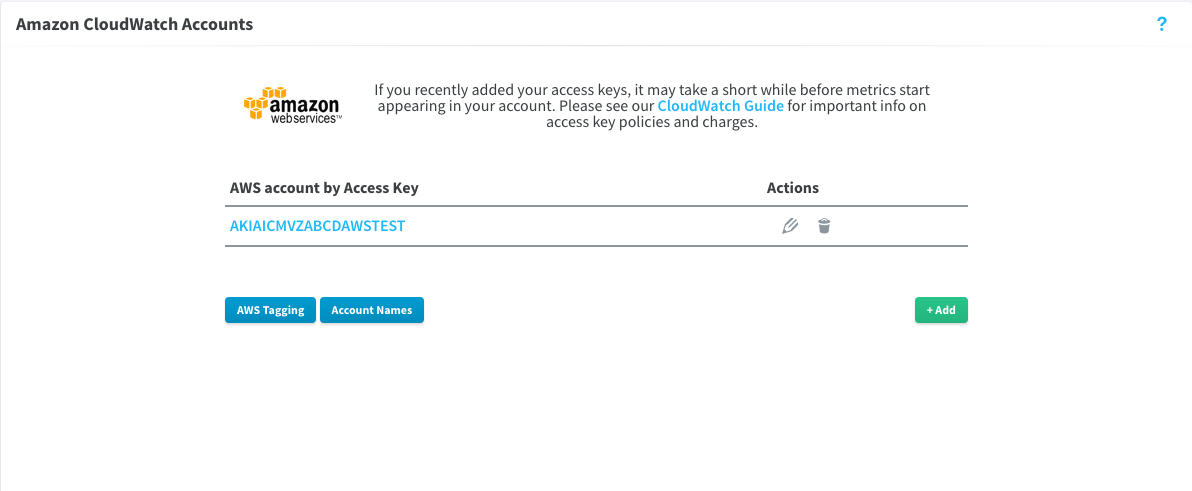 If you have any questions about getting your AWS instances connected to Hosted Graphite, contact our team. We're happy to help you!